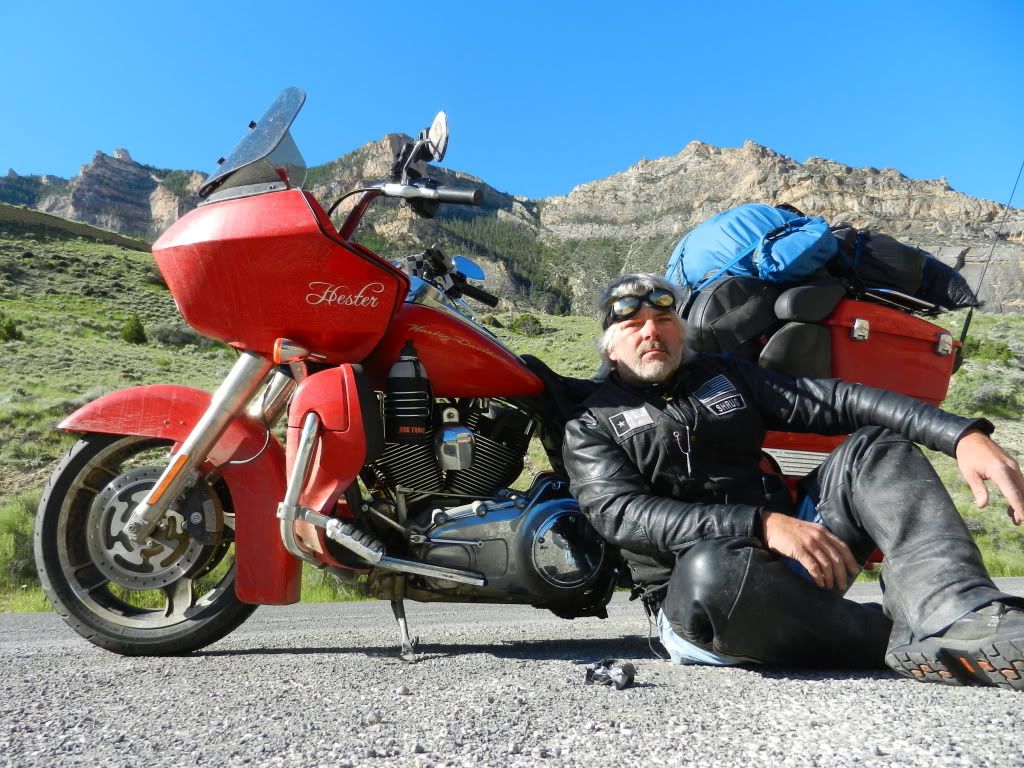 Taking a Break in Bighorn Pass
I woke up to the fragrant smell of fresh shit. Chloe had left a present for me right outside my tent. In fact, it was so close that I struggled to imagine how she could have squatted that near the tent without falling through the screen door. I guess the paper lady was right and it was my fault for feeding Chloe that stinky fish. I dragged my tent away from the putrid pile and packed up to leave. By this point, I had gotten pretty good at rapid camp set-ups and tear downs.
Awesome Curves Ahead
Hester and I headed east on highway 14 towards Sturgis. The route took me through Bighorn National Forest and over the 9,000+ foot high Bighorn mountain pass. This was a stellar sixty mile ride that I didn't even know existed. The horseshoe curves, switchbacks, and elevation changes were the most extreme I had ridden in all of the previous 7,000 Alaskapade miles. Fortunately, these roads were all paved and in great shape with no gravel sections or pot holes. When I saw what was in store for me on the GPS display, I stopped at a scenic spot to rest for a second and to mount my helmet cam under the right footboard. I had fabricated a mount there before I left, having anticipated the cool views it would capture on roads just like this one. The road was so tight that it took me over two hours to ride sixty miles and I loved every second of it.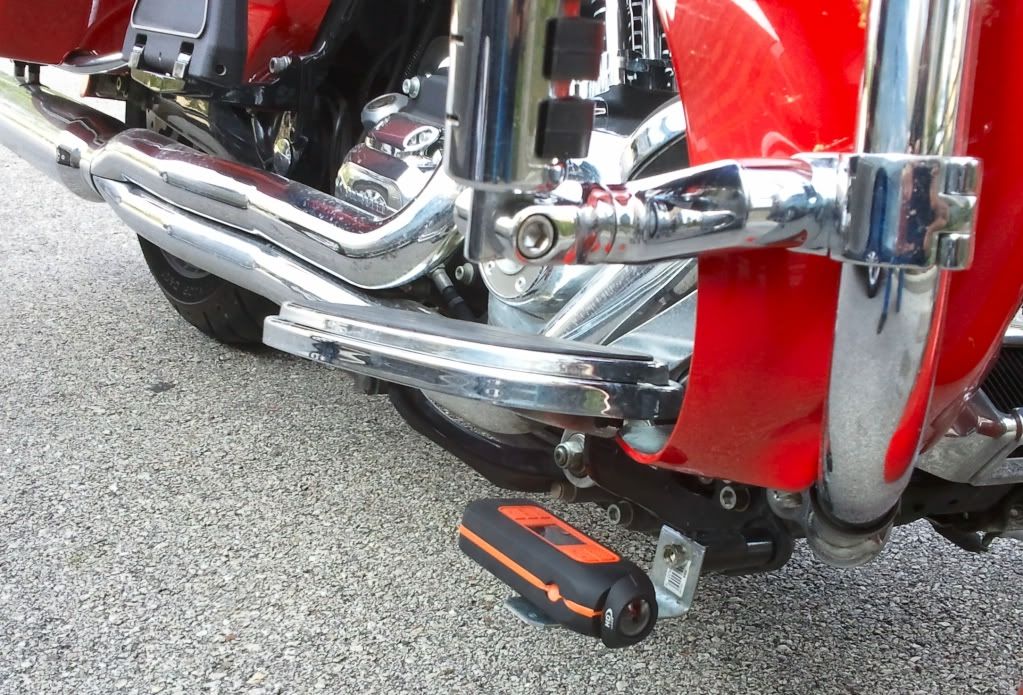 Floorboard Cam
Actually, there were a few tense seconds when I played a game of chicken with Bambi. I had just negotiated a tight uphill curve and finally passed a slow moving cage that had been holding me up when I saw the deer standing at the edge of the rocks on the road on my right. I eased back on the throttle and kept a steady eye on the deer. It stared at me; I stared at it. I had horsepower, but this was the deer's turf. I remembered that deer usually wait till the last second to react, so I approached with even more caution. Just as expected, it darted in front of me the instant I was next to it and glanced the leading edge of my right saddle bag. I looked behind me and saw the deer spinning on its side in the middle of the road. It jumped up and limped off the road just before the cage I had recently passed rolled up. That was a lucky deer. I was a luckier rider. The video camera caught it all.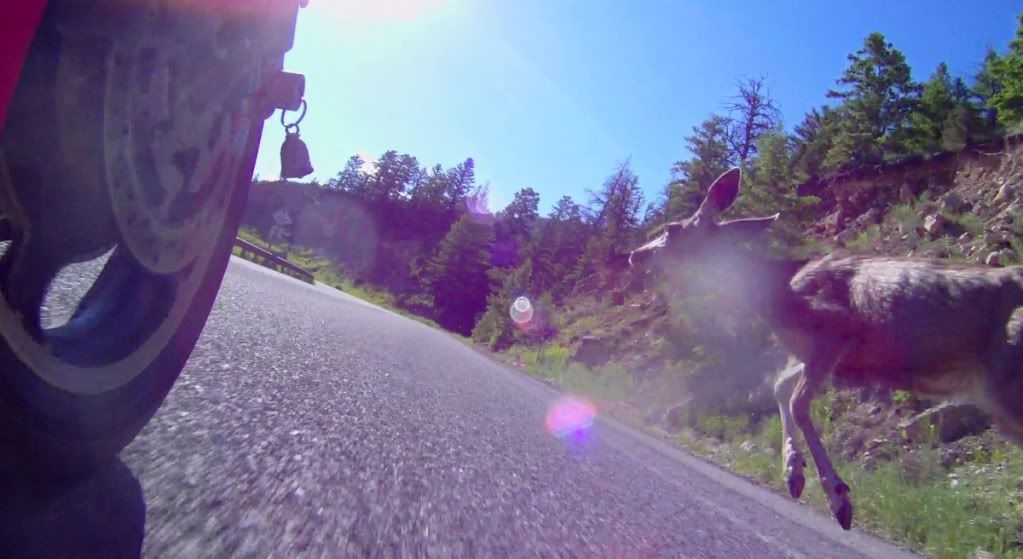 A Deer Playing Chicken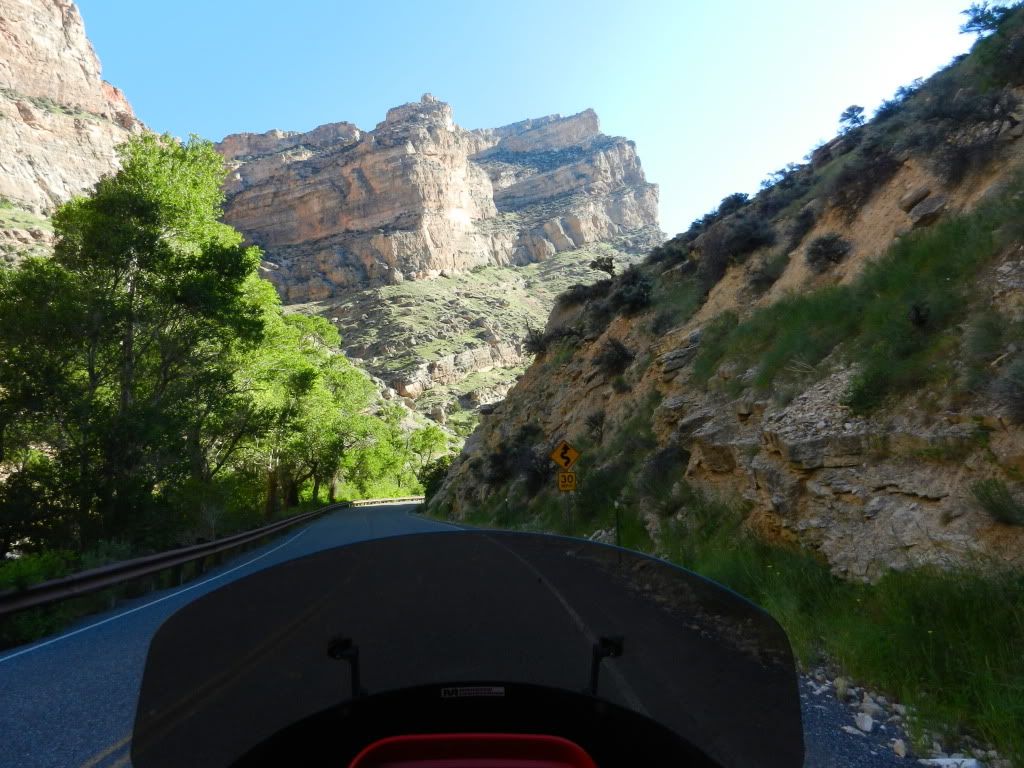 Bighorn Pass - Adventure at Every Turn
The Bighorn run was a mix of painted rocks, canyons, snow capped mountain crests, and jagged cliffs that reached vertically downward into roaring rapids of water that were as blue as the sky above and randomly topped with white foam. I saw numerous trails leading from the roadside up to caves in the sides of the mountain walls an I was tempted to pull over and climb up for a closer view.
Highway 14 dumped me out on highway 90 near Sheridan, WY and I found myself rocketing towards Gillette. I crossed I-25 and realized that I was intersecting the exact same spot I had ridden on day two of the Alaskapade.
At 2:00pm on Friday July 1st, a copper wire snapped inside Hester's fairing and the music which had violently shattered the tranquil silence of the unsuspecting countryside with blistering rock music all the way from Texas to Alaska and back to Wyoming and all the while entertaining your humble writer - was suddenly silenced. At the next gas stop, I checked my cigarette lighter and it had no power. Way back on day three of the Alaskapade, the auxiliary cigarette lighter and USB power ports I had wired-in had melted in my glove box. In a rush, I had stuffed a bunch of cables into the the glove box and one of the USB plugs dropped into a 12 volt cigarette lighter socket and shorted out. I saw smoke billowing out of the glove box and damn near had a heart attack. I pulled the melted cable out and saw that the plastic power housing I had installed had actually melted into the glove box. Since that happened on day three of the Alaskapade, I had been swapping out charging cables in the stock cigarette lighter on the left side of the fairing. It was difficult to keep all my cameras and bluetooth headset charged when I was tent camping without electricity. Now, my last source of recharging power was gone. There was a Harley dealer in Gillette, so I stopped in and checked my fuse in the parking lot. The fuse was fine, but the circuit was dead. I resigned myself to riding the rest of the trip without music. I could play the tunes though my bluetooth headset, but the audio quality sucked. I had plenty of audiobooks to keep me entertained and was in the middle of
Atlas Shrugged
(from which I stole the opening line to this paragraph). At 67 hours, there was plenty to keep my mind occupied for the rest of the trip.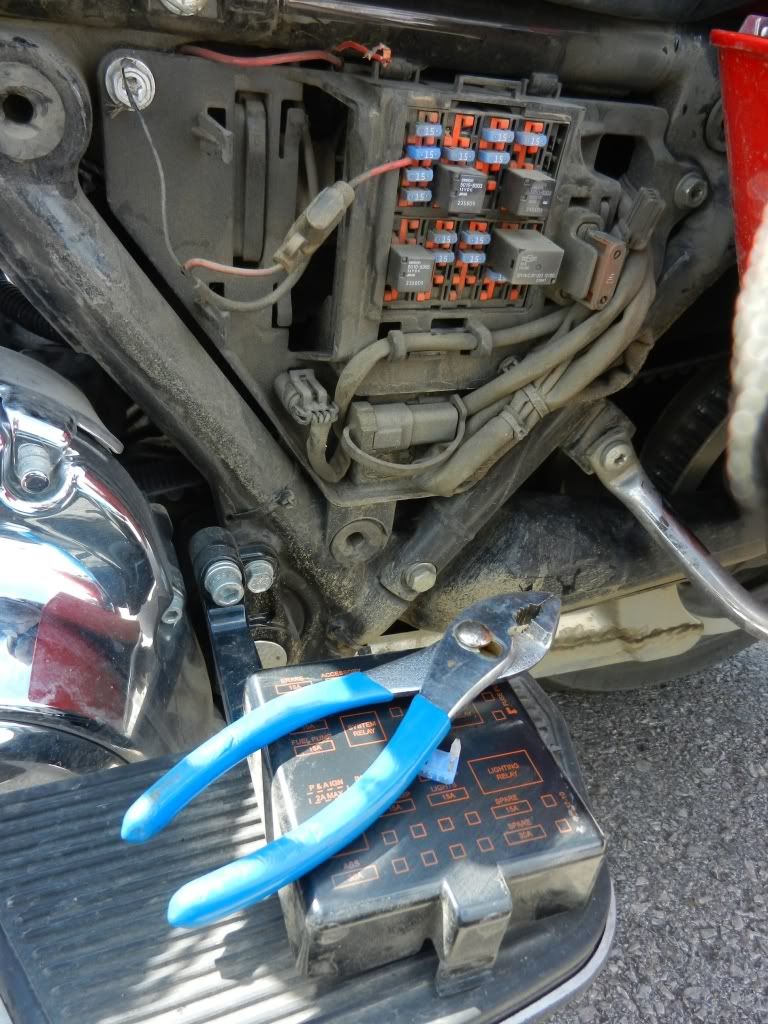 A service tech who was smoking a cigarette outside the dealership walked over to talk to me when he saw the Alaskapade.com logo on the trunk. "I'm guessing by the look of that bike that you really rode it to Alaska" he said. I replied that I had, suppressing a prideful look and acting cool about it. The next question he asked was common among bikers. "Where did you get that windscreen?" I told him that it was from MadStad Engineering and that I wouldn't own a bike that didn't have a MadStad screen available for it. A sales rep came out, took pictures of it, and wrote down the name. The coating of bloody, squashed bugs probably didn't make for a very good representation. Perhaps my testimonial and recent miles lended a bit of credibility.
I rolled out from Gillette and made my way to Devil's Tower. I've been fascinated by this monument since seeing Close Encounters of the Third Kind in high school and I wanted to see it first hand. I took a thirty mile detour off the highway to get Hester's picture with the monument in the background. The line of cages waiting to pay to get into the park was half a mile long. After my experience in Yellowstone, I wasn't falling for that again. I rode on the shoulder, stopped at the monument park entrance sign, took a picture, and turned around to head for Deadwood. It was worth the extra miles.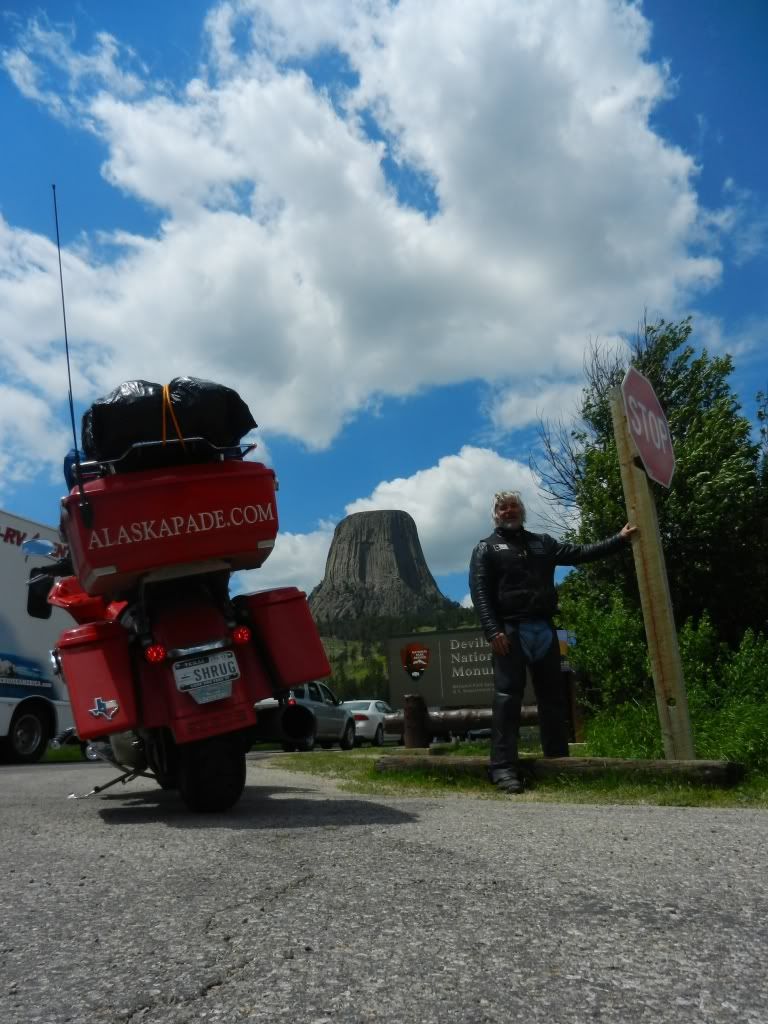 The Devil & Miss Hester
I exited off the interstate and took highway 85 into Deadwood. Honestly, I had never heard of Deadwood until the HBO series aired a few years ago. I had heard cool stories about the place since then and it was on the way to Sturgis, so I thought I'd drop in. Deadwood was bustling with tourist buses, bikes, and pedestrians. As far as I could tell, the only attraction to Deadwood was the mere fact that it was Deadwood. Still, I found it cool and enjoyed riding the main street. I must have found the back way in because on my way out, I saw a nice Deadwood sign atop a hill and had to stop to get Hester's picture there. I just had to stop. The wind was gusting up pretty good and I wondered if we would get some rain. I pulled Hester in front of the sign and dismounted. While I stood fiddling with my camera, a blast of wind blew Hester right over. I literally screamed "FUCK!" so loud I was sure it echoed all the way back into town. Bruce Banner had nothing on the rage I was feeling and I thought I was going to Hulk out right there on the side of the road. I had ridden over 7,000 miles through hell and back with no problems and now Hester was dropped by the f-ing WIND? I struggled to pick her up on my own. I tried everything I learned in the Motorcycle Safety Foundation class I took thirty years ago. The Honda XL-100 I rode back then was much easier to lift than Hester was. The rage I was feeling and the physical conditioning I had put myself through in the months prior to this day were no match for Hester's weight. I struggled for several minutes on my own before another rider stopped to help me stand her up. I was as embarrassed as I was outraged, but I was also grateful. I dusted Hester off and hit the road heading for Sturgis.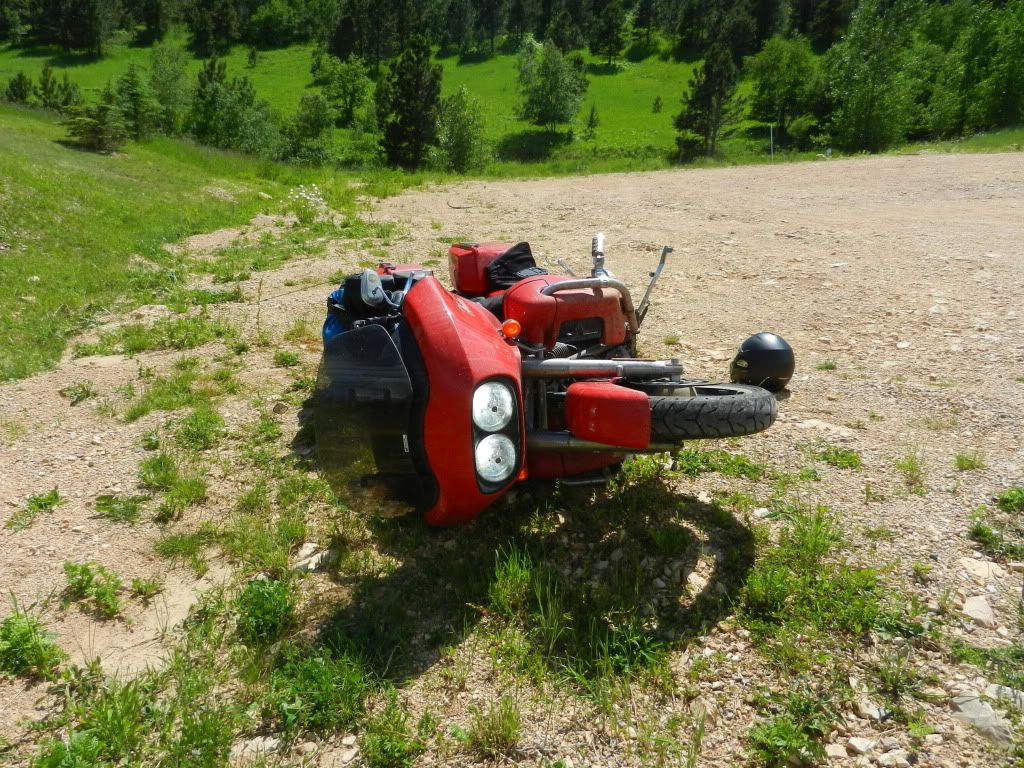 I've never been inclined to be in Sturgis during the corporate mess that the rally has become, but I wanted to see the place nonetheless. Up until Hester's fall, I was in a great mood. I had ridden through the most incredible mountain pass I've ever seen that morning and I had spent the rest of the day knocking off places that I've wanted to see for years. I was still fuming and was in no mood to let myself enjoy the moment. It was a good thing I was riding alone because I was not fit for company. I rolled into Sturgis and it was empty. A month before the rally, I didn't expect much of a crowd, but I figured this being a holiday weekend, there would be a few bikes. I found it odd that Sturgis was the ghost town and Deadwood was the boom town.
As Hester and I rolled down Main street, I envisioned pictures I had seen where tens of thousands of bikes were parked on both sides and down the middle. Now, Hester and I rode solo down the empty street, stopping every fifty feet at each of the legendary annoying stop signs. I rode through town avoiding blinking so as not to miss it and headed for the Full Throttle Saloon. I had watched every episode of the Full Throttle's reality TV show and was looking forward to seeing the place in person. Of course it was pretty much empty, but wandering around the place and seeing all the landmarks I had watched on TV was pretty cool. I bought a t-shirt and remembered when I met the Full Throttle Saloon owner Michael Ballard at the Lone Star Rally in Texas last year. I wanted a shirt then, but told him I would buy it on site in person. I have a few Harley shirts given to me by friends, but I only buy biker shirts for myself from places I've actually been. I bought my shirt, snapped a few photos, and mounted up planning to head for Mount Rushmore.
Hester in a Ghost Town Under Threatening Skies
Then I looked up. The skies to the east were black and hung low on the horizon. The air was dead still and in the silence that was the emptiness of Sturgis, I could hear my heart beating. I topped off Hester's tank and asked a local at the station if he thought it looked like rain. He replied "Are you kidding? This is Sturgis, man." I was already in a fowl mood and I didn't need this. My plan (born out of anger) was to ride to Mount Rushmore, find a nearby place to camp, and then just head towards home in the morning. I had accomplished my goal if riding to the Arctic Circle a week ago and in my angered state, I convinced myself that Ill these extra stops were just gravy. Nevertheless, the weather altered my plan and now I needed to find a place to stay. None of the popular Sturgis campgrounds were open yet as the rally was over a month away. Despite the date, the hotel rates were all still ridiculously high. I rode back across town to look for a tourist information center I had seen earlier on my way into town, hoping they could point me towards a campground. As I sat at a traffic light, a pickup truck with a dog in the back rolled up next to me. This was one of those dog mixes that defied breed classification; a real dog's dog. His coat had more colors than Cyndi Lauper's hair, he had one white eye, and proudly wore an old bandana around his neck. This was one happy dog. He looked thrilled just to be alive in the back of that truck sniffing the world as it passed by. His little stub of a tail wagged so hard that his whole rear end shook. One ear stood tall and the other hung folded over, half erect. His tongue hung out of one side of his open mouth as he panted and it looked as if he was actually smiling. When the truck stopped next to me, the dog stepped up on the side of the bed and stretched himself as close to me as he could without falling off. As I reached over to pat his head, I wondered if I would draw back a nub. I could see a young boy in the truck's cab peeking at me through the passenger mirror. His head was resting in the crook of his folded arm at the bottom of the open window and his face was devoid of expression. I thought to myself, what a contrast. The dog was thrilled to be alive and the mere site of a person on a bike patting him totally made his day. The boy remained stoic as the light changed and the truck and dog drove off. For some reason I felt better. My anger over Hester's fall had passed. I missed my dog Zeus.
On the way to the visitor center I saw the Sturgis RV Campground up on a hill above town. I rode up and down the street looking for the road to get there. The skies were growing darker by the minute and the wind was really picking up. Long, thin forks of bright lightning were streaking from the sky to the ground in the distance. I was mesmerized by the sight of the lightning. It appeared to me as a 3D special effect projected against a constantly morphing bruised backdrop of grey, blue, and black curtains. I snapped back to reality and realized I was in trouble. I could either ride west in an attempt to escape the storm or find a place in Sturgis to hunker down and ride it out.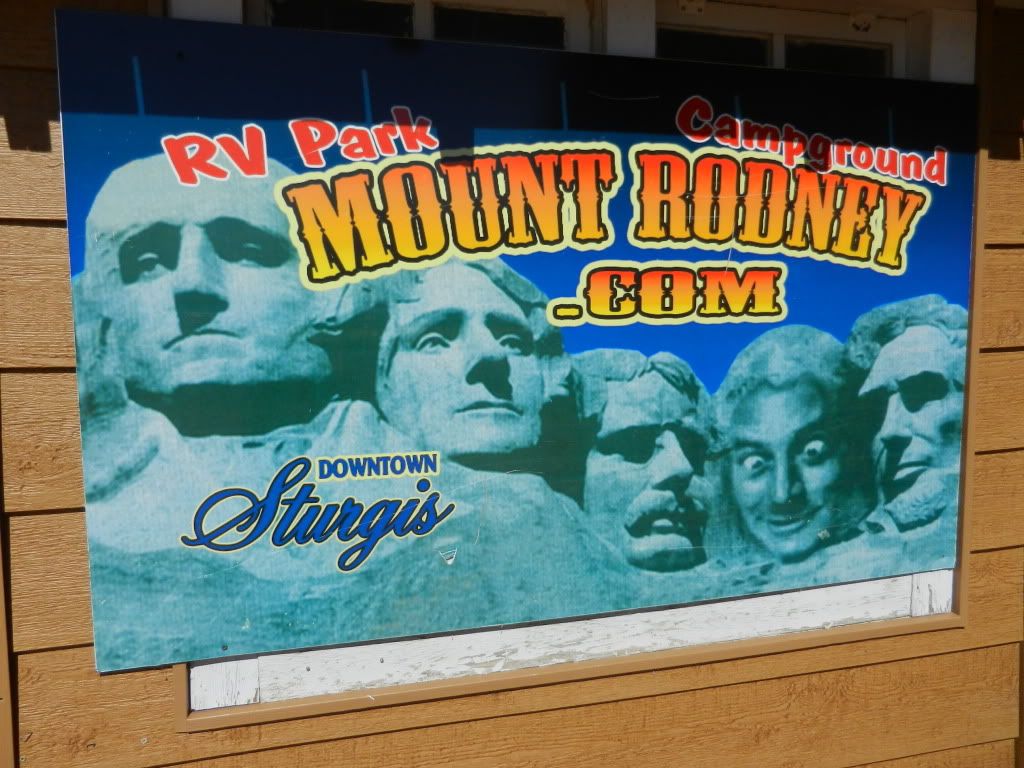 The Previous Name & Sign of the Sturgis RV Park
I finally found the road that led up to the RV park. It was a brand new road that wasn't on my GPS. I rode in and figured it was open because there were a handful of large campers there. The office door was unlocked, but the office was empty. I decided to pull Hester in under the porch overhang and ride out the storm there. A woman exited a camper parked immediately across from the office and asked if she could help me. I looked up and said "Tell me you allow tent camping and you can definitely help me." She replied that they had tent spots with water and electricity and the rate was $10.85. "Per hour?" I said. I mean, this was Sturgis. "That's the daily rate through July" she replied. I was stupefied. She said that there was only one other tent and that I could have any spot I wanted. I found a place near a tree and quickly set up my tent. It was only 4:00 in the afternoon, but it looked much later because of the approaching storm. As large raindrops began to fall intermittently, I used all the stakes in the tent package to anchor it to the ground. The gusting winds were already making it difficult to set up the tent. I placed as much gear from Hester's saddle bags and trunk as I could into the corners of the tent to weigh it down. It was starting to rain pretty hard by then, so I rolled Hester up to the large tree, sat her up on the center stand, covered her, and used my tie downs to strap her against the tree trunk. I had learned my lesson about high winds well earlier today. As I went to crawl into my tent, I noticed all sorts of stuff blowing off the picnic table adjacent to the only other tent in the complex. There was a small bike trailer there and a canopy was erected over the table, but no one was around. I slipped on my rain suit top, walked over, and placed as much of the stuff as possible under the table and then took some rocks from the fire pit and used them to anchor the outside corners of the tent. It was almost completely dark by then and the approaching wall of the storm was hanging directly over the edge of the RV park. The air was dead still. The only sound was the faint hint of music emanating from an empty bar across the street. I heard sirens and wondered what happened. I quickly realized that these were storm sirens. Did they have tornadoes in South Dakota? I was about to find out. I high tailed it to my tent, crawled in, zipped up, and hunkered down.
Once inside, I inflated my air mattress and unrolled my sleeping bag. I made a dizzy mental note to buy an air compressor before my next trip. Of course, with no auxiliary power, I'd be blowing the mattress up manually this time anyway. I realized it was really dark, so I cranked my wind-up lantern, slipped off my wet jeans, and started nesting. The winds continued to pick up and the sound of the rainfall pounding the top of the tent grew louder. Within minutes, I was under the full rage of the storm. The wind blew between the rain cover and the vented top of my tent and swirled inside around me, making for a strangely comfortable breeze. The thunder was as loud as I had ever heard. The tent was being hammered by winds from one side and then the other as if trade winds were taking turns testing my planning and the anchoring stakes. Suddenly, one corner of the tent rose up tossing the helmet and leathers that had been placed there to hold the corner down into my lap. The thin metal stake had loosened in the soggy ground. Then the opposite corner lifted up and I found myself sandwiched like shivering meat in a flimsy vinyl and nylon taco. I tossed the helmet and leathers back into the corner hoping to regain some stability. No dice. I briefly considered crawling out of and dropping rocks on the corner like I did the other guy's tent. At that instant, a huge series of flashes illuminated the inside of my tent providing a strobe light effect that allowed me to clearly see the violent shaking the tent was receiving. The lightning was followed almost instantly by enormous, seemingly endless claps of percussive thunder, telling me just how close the strikes really were. Another corner of the tent let loose. My attempts at replacing the items into the corners were fruitless. I stretched out, lying flat on the tent floor extending my hands and feet as far into each corner as I could reach in an attempt to hold them down. The wind was howling, thunder was clapping, and lightning seemed to dance indiscriminately just outside my little two person tent. I was lying there wondering how long I would have to hold that awkward position when my yank and crank lantern died. Darkness. I considered crawling out and running to seek shelter in the office. I considered putting on my helmet. I considered how stupid I would look if I was found dead wearing a helmet spread eagle in my tent in my underwear, snuffed out by lightning electrocution and/or fright. I found myself counting the sound of my heartbeats. Then it struck me that I could actually hear my heartbeat and I realized that the wind and rain stopped as suddenly as it had started. What seemed like hours was in reality, mere minutes. I retracted my arms and legs and fought the urge to roll up into a fetal position. It was dead silent outside and I wondered if this was just the calm between the storms or if it was over. I unzipped the door to the tent and crawled outside to see the damage. To my amazement, there was none. The skies were clear and deep blue and there was a light breeze in the air. It appeared as if nothing had happened, until I looked at my poor little tent. It took about twenty seconds for me to shake it back into shape and it popped back into its dome like structure as if it had never been molested by the wind and rain. Indeed, nothing inside was even remotely moist with the possible exception of the spot where I had been lying holding the corners down. I glanced down and checked my drawers; no stain. An older gentleman from one of the campers walked over and asked if we were OK. Standing there in my underwear, I replied that I was alone, that the other tent was unoccupied, and that I was fine. I've always joked that I wear black underwear to hide the skid marks. In this case, it was no joke. I checked Hester and she was still parked on her center stand with her vinyl rain cover still in place. The straps I had placed around her and the tree were unnecessary.
I was hungry. No, I was starved. I couldn't remember when I last ate anything other than peanuts and Slim Jims. Even the fish offered to me the night before in Greybull was starting to sound good. People were stirring down on the street across from the RV park. I decided to go find a real meal.
At a traffic light, I was once again greeted by the same pickup truck with the same dog in the back. This time, there was no passenger staring me down from the side mirror in the cab and the dog in back who had seemed so happy a couple of hours earlier, was now slumped over, dripping wet; his dusty bandana soaked and dripping. Unlike before, both of his ears were drooping and his nub of a tail was tucked tight against his speckled rump. I reached out to him like before and he just laid his head on the side of the truck bed. Apparently, he was as afraid of the storm as I was, but I had shelter from it that he apparently did not. I thought of my dog Zeus and how as fiercely protective as he is, he's still terrified of thunder. A strange but somewhat familiar feeling rumbled inside me and it wasn't hunger.
I settled in for a steak at a place called Rosco's and I rode up to incredulous stares from the staff there. "Did you ride through that storm?" the hostess inquired. I replied that I had ridden it out in a tent down the street, which only generated more stares. "You're not from here, are you" she commented. I asked "Is anybody?" She said that there were a few, but they knew better than to risk exposure to a storm like that" as she walked me to my table. I thought to myself "they had a choice". The waitress arrived and offered me a menu. I told her all I wanted was the largest steak they had - cooked medium rare, a salad, and a glass of tea. "Don't you want to see the prices?" she asked. I replied that I didn't care; I just wanted food. It occurred to me that my appearance might not be its best, so I hit the men's room. I was right. I was a mess. My hair looked like Albert Einstein stuck his finger in an electrical socket, my face was dirty, and I needed a shave. I was reminded of the look I got from the hostess at Fast Eddie's seemingly eons ago in Tok, Alaska. I shaped my hair down using my fingers and water from the sink and then washed my hands and face. I still was far from pretty, but it was an improvement. As I looked in the mirror, I could see that she shape of my face had changed. My belt was tightened to the last hole and my pants were still drooping. I looked like a homeless guy with a really cool Harley. The steak was OK; Sizzler quality at best. But it was much-needed sustenance and I scarfed it and the mixed veggies down using the bread to sop up the juice. The plate looked as if it hadn't even been used.
The cook came out and sat across from me in the booth. "Didn't like it, huh?" he joked. "No. Can I send it back?" I replied with a grin. He told me that he had been in the Army, stationed in Texas and had come to Sturgis for a rally twenty years ago and never left. Even compared to me at that instant, this was a rough looking character. His faded do-rag covered his sparse grey hair and reached down over his forehead, almost touching his unibrow. He had old piercings in both ears that appeared to have closed up years ago. One looked as if an ear ring had been torn clean through the ear lobe. Strangely, he had no tattoos; at least none that I could see in his short sleeves. His face held deep cracks, surrounded a cauliflower nose that appeared to have been broken more than once, and bore no facial hair. He had scarred hands with thin rings on several fingers and on one thumb. His fingernails looked as if they had been nervously chewed way too far down. His dark, narrow eyes seemed to lighten and widen a bit as I described my trip; where I had been and where I was heading. He asked for details about all my stops and seemed genuinely interested in my response. As we talked, I considered the other people I had encountered in Sturgis. Everyone there seemed like voluntary inmates in some sort of Twilight Zone prison camp without walls. It occurred to me that their entire lives revolved around ten days in August. I remembered the old woman in the window back at the Hot Spot on the Dalton Highway in Alaska. She was stuck in the middle of nowhere. But these people could drive thirty minutes to the east or to the west and be in a world that had a purpose year round. It seemed to me when I spoke with them that they secretly relished their voluntary vassalage, yet they intentionally projected a sense of emulous despair to people like myself who were only passing through. It made me glad to have a home to go to. I realized that this as-of-yet unrecognized feeling that had been developing within me over the last two or three days - was me starting to miss it.
One exception to the depressed Sturgis residents was the park manager. She and her husband were retired snow birds who lived in Florida during the winter and managed the RV park through the summers. She was a gracious and kind woman who seemed genuinely interested in the Alaskapade and for my safety after the storm. She had the appearance and demeanor I expected from the voice on the phone the night before. If I ever go back to Sturgis, I will stay at this RV park.
I saddled up on Hester and rode back to the RV park. The ground was dry and there was no evidence whatsoever of the violent storm that had rocked these grounds less than two hours before. The summer sun was setting to the west, but it was still bright out. This struck me as a stark contrast to the seemingly absolute darkness I had encountered only hours before. The skies had faded from a deep blue to a warm orange, which made the few clouds that dotted the sky seem even more voluminous and closer to the ground, yet peacefully harmless.
When I arrived at my tent, I felt a peculiar sense of security. I felt like I was in a familiar place. It wasn't home, but it was strangely common and comforting. I was again reminded of my dog Zeus. He always felt at home wherever his bed was. My tent was my comfy, familiar dog bed. As euphoric as I found myself feeling when I rode through mountains and scenic landmarks each day, every night that I had to seek a place to camp generated an uneasy sensation in my gut. It was an insecure feeling to which I was not accustomed. I felt homeless. I had money for hotels, but I wanted to stick to my plan and more importantly, I needed to stick to my budget. The uneasy feeling seemed to dissipate almost instantly whenever I secured a place to sleep;even if that place was just a cut-out on the side of the road. I have yet to put my finger on the exact reason for my insecurity in this regard, but the feeling was as deep as any other emotion I had experienced on the Alaskapade. Needless to say, I was happy to be back at hotel Hester in the Sturgis RV park.
I saw a bike and realized that the other tent's occupant had returned. I wondered where he had ridden out the storm. He saw me and came walking over. We introduced ourselves and made smalltalk about the weather. Ed was retired from the utility industry in Florida and was on a long bike trip across the country, riding a Triumph Rocket III. He rode out the storm at a card table in a casino down in Deadwood. I mentioned that I tried to put his things back where they were before the storm. He was appreciative, but I think he still wondered how his camp survived. Ed and I talked quite a while and the topic turned to where we had been and where we were going. He said he planned to ride the Spearfish Canyon scenic loop, to the Chief Crazy Horse monument, and to Mount Rushmore the next day, which was Sunday. I said that I planned on breaking camp in the morning and heading to Rushmore myself before starting the final 1,200 mile ride home to Texas. Ed mentioned that we could ride it together if I wanted. We talked more about our respective journeys and I was somewhat taken by Ed's relaxed demeanor. It occurred to me that I was in no real hurry to get home and that I enjoyed Ed's company. I decided on the spot to stay through tomorrow and ride with Ed to all the places he mentioned. I would drop by the office in the morning and pay for another night.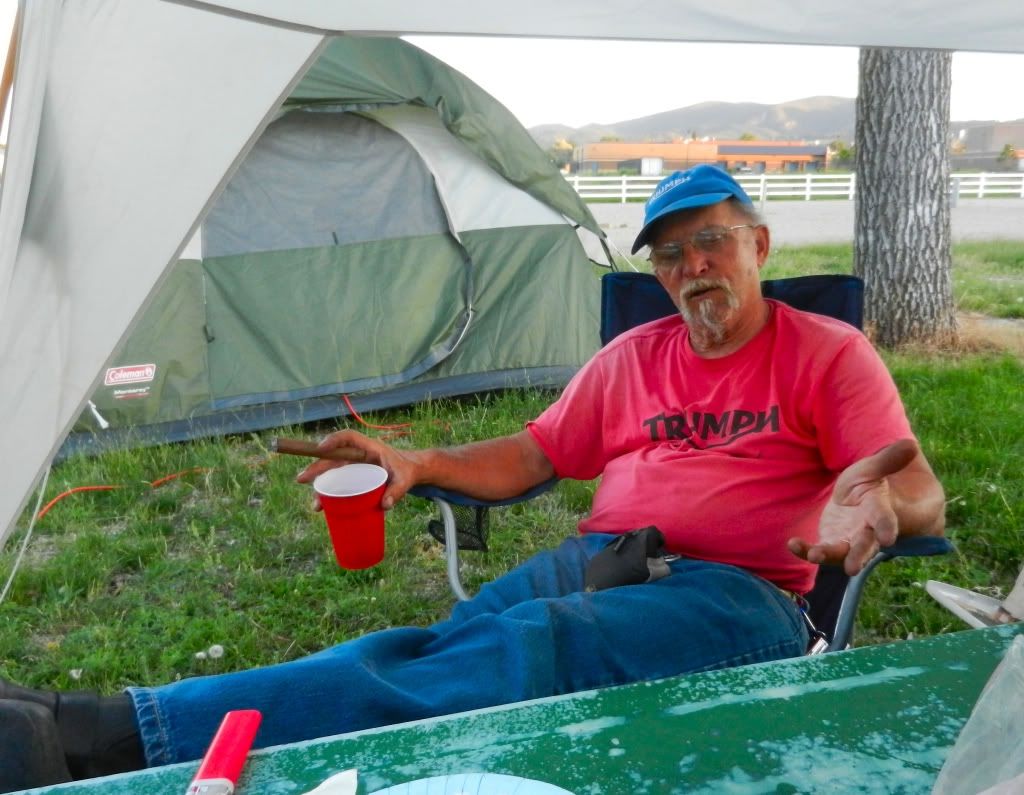 Ed From Florida
Ed and I talked a while longer and I decided I needed to charge up my goodies and try to get on line to update this blog. The Sturgis RV park had an excellent WiFi network. Earlier in the afternoon before the storm, I was geeking out looking at the antenna array with its directional patches broadcasting to the various camping areas and the backhaul antennas that connected their signals between the network equipment and the antenna towers. I wanted to ask the hostess if I could get a look at the network gear, but I figured she already thought I was weird enough as it was. In the background, a band could be clearly heard playing in a bar across the street. I considered walking over to give them a listen as I love live music. Hearing all the great classic rock tunes made me really miss playing my drums. I blew off walking over, electing instead to enjoy the music from a distance.
I sat back in my tent with all the flaps open, letting the light breeze blow through. The air was scented with a fresh, clean-smelling post-rain fragrance. It was if I was living in a TV ad for fabric softener. The bright orange sky gave up its battle against nightfall and darkness fell over the camp. Sturgis had a great starscape. The clearly visible constellations in the deep black night sky reminded me of camping trips I took with my uncles when I was a kid. My uncle King would point at stars and make up ridiculous stories about them, all of which I believed wholeheartedly. It struck me that in less than an hour, I had experienced an emotional 180. I had a comfortable, safe place to sleep without the threat of finding wildlife, derelicts, or dog shit outside my tent the next morning. I was relaxed, confident, and looking forward to a full day of relaxed riding with absolutely no agenda.
My belly and my heart were full and my spirit was recharged. I quickly fell asleep staring up at the new moon through the open tent flaps.