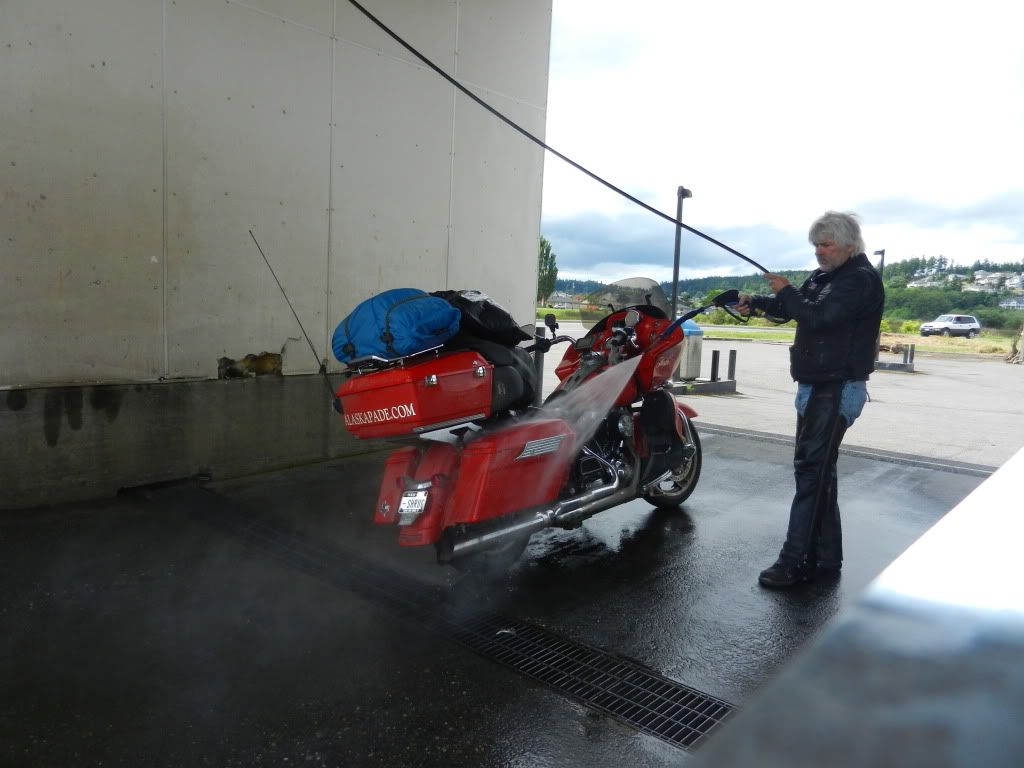 Frank's Hero Wall With Mom's Friend Mary Anna
After what seemed like a quick nap, Hester and I were awake and ready to head east toward Sturgis and into the Black Hills. I arrived rather late the night before and didn't have time to catch up with my mom's friend in Oak Harbor. I decided to not set an alarm and just wake up when I felt like it. I needed to exchange my Canadian currency and give Hester a much needed bath. I was also meeting Mary Anna for a late breakfast, so I was in no hurry. I hadn't had a real breakfast in weeks and I was looking forward to it. We met at a diner called Frank's Place and I pigged out. I had a bad habit of not eating on the Alaskapade and would sometimes go for two days without a meal. The massive pile of cholesterol, protein, and carbohydrates placed before me by the waitress was a welcome sight. The owner Frank is a former Marine and his diner is loaded to the hilt with military decor, including his Heroes Wall out front. There is a small Navy station on Whidbey Island and Frank's Place caters to the active duty sailors and the many local retirees. After scarfing down a much needed breakfast and asking about a defibrillator, I mounted up and headed for the Mulkiteo Ferry. I had considered taking the scenic highway 20 route across Washington, but since I was getting such a late start, I decided to take the ferry to the mainland and slab it across to Idaho. I had seen plenty of mountain passes over the last two weeks and I was somewhat excited to get to Sturgis.
There Was Some Animal Shape When I Took This
Camp Cataldo
Shrug at the Borrowed Camp Fire
After a twenty minute ferry ride, I made my way onto 90 and rode east towards Spokane. The mountain passes into Idaho and around Cougar Lake made for a nice break from the flat concrete slabs I had ridden from Seattle. The bright beams of sunshine played hide and seek with the scattered clouds that dotted the otherwise bright blue sky. As I listened to Atlas Shrugged, I found myself getting distracted by the animal shaped clouds and briefly reverted back to that childhood game. I rode through the center of the Idaho panhandle, past Coeur d'Alene to a little town called Cataldo. There, I found a nice little camping area nestled along some river (that appeared to have no name) where Hester and I could bed down for the night for just $10. The thought of being able to set up camp in the daylight was appealing, so I pulled in. There was a nice pile of cut fire wood in the fire pit. A roaring fire on a cool night of camping next to a quietly babbling river would be perfect. The only thing that could have made it more perfect would have been something to actually light a fire with. I thought a moment and remembered that I had a gallon of gas in Hester's starboard saddle bag. I thought better of it and decided to forgo a fire. I wandered the campground to get a closer look at the river and noticed a huge camper with a roaring fire. Now I really wanted my own fire. I decided to take some of the wood from my fire pit over to the camper and offer it up. The guy who was staying there had a truck bed full of cut wood, but graciously accepted my unburnt offering and invited me to sit with him. His kids were grown so he had sold his home and was living out of his camper, which was probably as large as my house. It had pull-outs, slide-outs, pop-ups, a satellite dish, and I could see a huge flat screen TV through the oversized side window. I wondered to myself how many gallons per mile it took to pull the thing. He commented that he was staying at this site in Cataldo for four months and would pack up and move somewhere south when cooler weather sets in. We sat and chatted for a couple of hours. It made for a great night, but I forgot to eat again. I had worked hard the six months prior to the Alaskapade and had lost over forty pounds. Even still, I could tell I had dropped more weight over the last two weeks.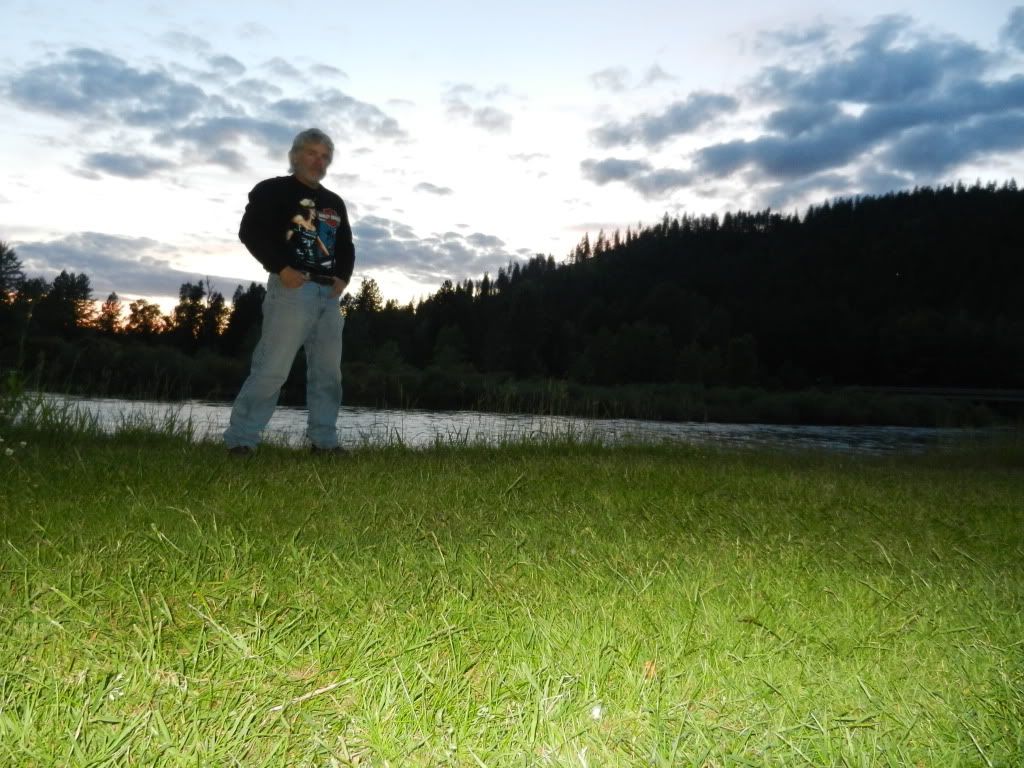 I packed up camp and headed further east on 90 and then took 287 south at Three Forks, Montana bound for Yellowstone National Park. I'm not sure what possessed me to go to Yellowstone. I think the scenic loops there were recommended by some fellow riders. It was on the way to the Black Hills, so I figured why not.
The ride into Yellowstone was pretty uneventful. I arrived at the west gate Friday afternoon, paid the entry fee, and went looking for Old Faithful. I rode up to another biker and we found ourselves stuck in bumper to bumper stop and go traffic. The park was littered with huge camper trailers with RENT ME emblazoned across them which were full of tourists who I suspected couldn't coherently drive their cars, much less these behemoths. Much of the park road loop speed limit is 35 mph. That's annoying enough until you add the campers' snail pace of 20 mph. My skin was crawling off my back and Hester's paint was boiling. Maybe I was spoiled by all the close-up wildlife I had seen in Alaska and Canada, but I grew increasingly annoyed with these people stopping every two minutes to jump out and shoot pics of every squirrel and deer they saw. I wanted to shoot the drivers. I saw steamy water and a huge crowd of people, and pulled over. It turns out that there are are dozens of geysers in Yellowstone and this was just one of them. I got back on the road and realized I was now again behind all the campers I had managed to pass in the previous hour. I finally found the Old Faithful area, which was actually difficult to miss. All one needs to do is look for the largest collection of poorly parked campers on the planet and you're there. I shared a parking space with another bike and walked what seemed like a mile past the education center, toilets, gift shops, and park ranger offices to the geyser area.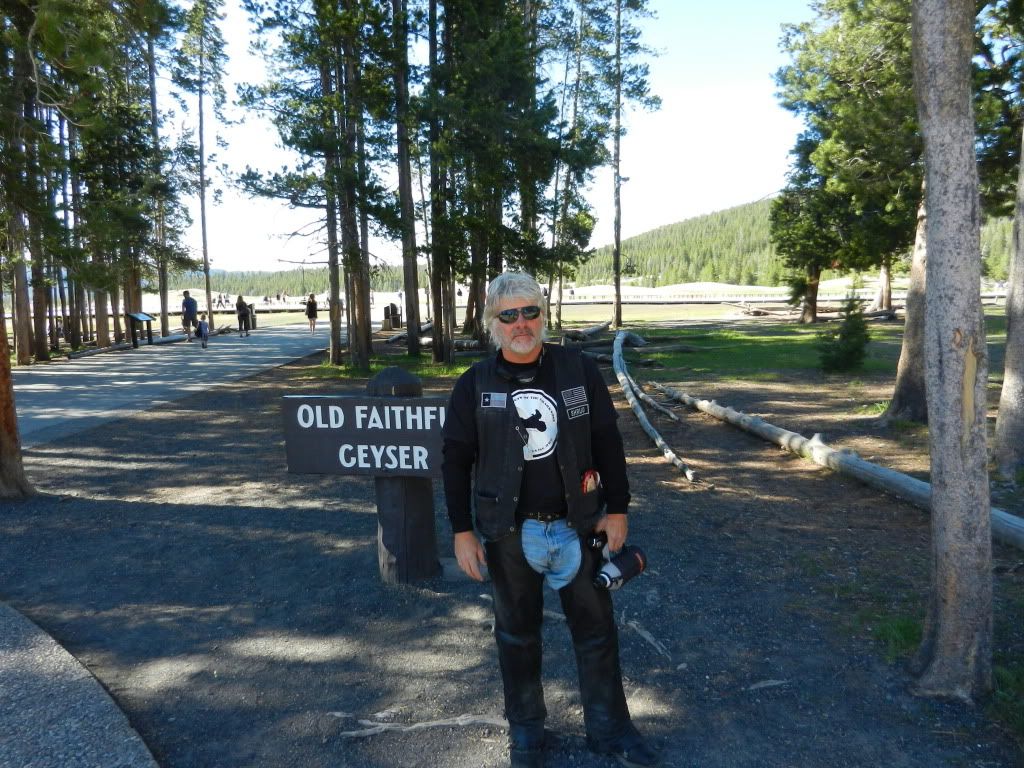 Old Shrug at Old Faithful
The geyser had apparently just erupted because the parking lot was a mess of campers and minivans all trying simultaneously to get to the single exit and back to the one lane park road. Horns were blaring and drivers were glaring. It was a stalemate. Somebody probably saw a squirrel. All these tourists who had sat for hours trying to get into the area now had a carload of screaming kids who were less than impressed at the sight they had just waited hours to see and were now forced to wait in more traffic.
I wandered up to the geyser and had no idea when the next scheduled eruption would be. One would think based on its name that the geyser would be more predictable. Apparently, it's not that simple. Of course it wasn't because I was there. The height and duration of the previous eruption dictates when the next one will take place. The interval can be anywhere from thirty to ninety minutes. I sat around and waited for a while and noticed the constant flood of campers still piling into the already overstuffed parking lot. It was about 5:30 and this might be the last eruption before nightfall. It occurred to me that when this thing finally goes off, I would find myself smack dab in the middle of the next round of camper mass exodus. I promised myself that I'd look at it on line and headed back to the parking lot to get out while the getting was good.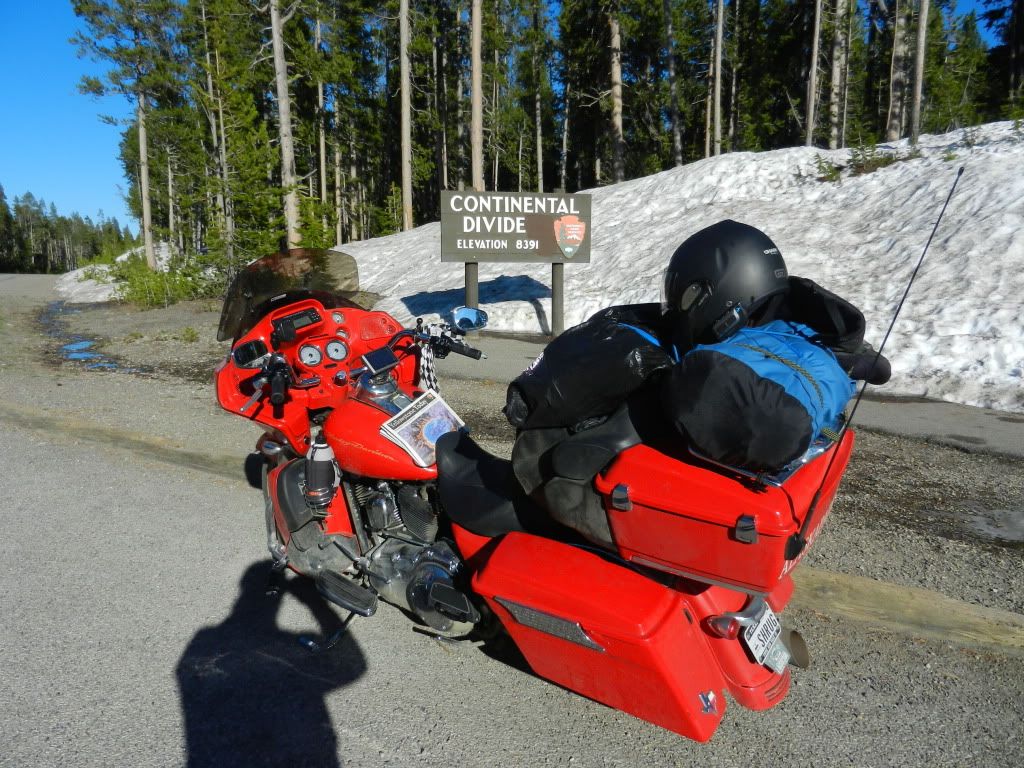 Shrug's Shadow & Hester at the Continental Divide
I was heading out to the east gate and fortunately, most of the traffic was heading back to the west from where we all came. I was surprised to learn the east gate was about fifty miles away. I fought the temptation to blast on the wide open roads through the park. This was a good thing because Yellowstone has many cops and I saw several drivers were pulled over receiving citations. The ride out took Hester and I over 8,000 feet up and included countless waterfalls, rivers, lakes, and canyons. It was strange riding past snowy hills with kids sliding down them on sleds after having just been in sweltering heat the morning before. It was even stranger seeing huge lakes like Yellowstone Lake sitting at elevations higher than 7,700 feet. That altitude and all that water made sense of the snow and cold temperatures I was feeling. I caught myself being spellbound by the hundreds of small impromptu waterfalls I passed. The snow was melting and the resulting flows were very picturesque. The loop to the east gate took me north around Yellowstone Lake and then an additional forty miles before dumping me out on highway 20 in Wyoming. Getting out of Yellowstone took me much longer than I expected. When I considered the time spent there and the $20 it cost me to ride through, knowing what I know now, I wouldn't bother with it again. I'm probably just spoiled. The scenery is probably amazing to anyone who hadn't just seen all that Hester and I had ridden through in previous days.
Cody Wyoming - Named After Buffalo Bill Cody
I followed 20 eastbound into Cody, WY and got there just in time for the Cody Stampede! I thought rodeo was big in Texas. Wyoming LOVES its rodeo. The highway ran right past the arena where the rodeo was taking place and was completely blocked by local officials. I pulled up to the barricade and was told I needed to turn around or come back later. Turn around? Where the hell would I go? I thought to myself. Actually, I said it out loud to the guy. Oops. I changed my tone quickly and explained that I was heading east to the Black Hills and then lied and said I had a hotel reservation in Cody. The official asked which one. I lied again and replied "Holiday Inn" figuring that was a safe guess. Apparently it was. He called ahead to another official on the other side of the barricade to let him know I was passing through. I was hungry and tired and actually considered stopping at a hotel. I grabbed a can of Monster Energy and filled Hester's tank while searching my GPS for campgrounds nearby. It indicated a place about 50 miles away and listed the phone number. I called the number and asked if they allowed tent camping. They did and I told the lady I was less than an hour away on a motorcycle in Cody to which she replied a late arrival was no problem. She had the softest, sweetest deep southern drawl and told me to ride safe and she would keep the coffee hot for me. She added that all the restaurants (the only one, I learned the next morning) were closed, but that she had left over dinner if I was hungry. It was like talking to grandma. I couldn't wait to get there.
I followed the GPS directions to the campground. I use the term "campground" loosely here. The address on the GPS took me to an old, wooden frame house with a large back yard where an old pickup truck camper was parked. My back yard is larger than this campground. Better yet, my back yard doesn't back up to a railroad track through which trains seemed to pass multiple times each hour. I went to the porch that looked into the office/living room and rang the bell. It was one of those old doorbell buttons that was backlit, but the cover was broken. I pressed it and got a slight shock, jerking my hand away quickly. The place reminded me of an old I Love Lucy episode. It was the one wherein the Ricardo's and Mertz's were on the their way to California and had stopped at a "luxury hotel" in the middle of nowhere, which turned out to be a dump night next to the railroad.
Chloe on Guard
Towards the screen door approached an oddly shaped frame with a face that looked like a crumpled up piece of paper topped with white hair stuffed inside a clear plastic shower cap. It was wearing a man's wife beater t-shirt and no pants. As it approached, I thought it might be a woman. My fear was confirmed when she reached up to unlatch a lock at the top of the door. Not wanting to get caught staring at her face, I looked down. My gender suspicion was confirmed when her t-shirt was pulled upward by the upward reaching of her arms. Her pendulous breasts hung in front of her ample stomach and looked like flattened, inverted bowling pins. I snapped my head up and probably snapped three vertebra in the process. At that point, the crumpled paper spoke - and it had the softest sweetest, southern drawl. I gathered my wits and smiled shaking my head as she said "I'm glad you made it. Did you eat in Cody?". "I saved you some fish". Fish. Shrug doesn't do fish. I paid her $8 and not having the heart to say no, took the paper plate of fish and okra she offered me. I love okra, but the fish juice had run allover the plate and the smell was starting to make my stomach turn. As I walked down the steps toward Hester, I was greeted by a very large and very happy blonde Labrador retriever. "Don't mind Chloe." the crumpled paper said. "She loves people. She'll ask, but don't give her a bite of fish. It gives her the shits" she added. All I could muster was "Yes ma'am" as I sat on Hester and balanced the soggy plate on the gas tank. I set up my tent and didn't bother to dump the day's photos and video to my hard drive. I was beat. The smell of the fish took care of my hunger. I chugged down a package of peanuts and fed the fish to Chloe who had parked herself outside my tent. It was warm enough out that I didn't even bother to unroll my sleeping bag. I stretched out fully clothed on my air mattress and was out before the train near the yard finished passing by.