By popular demand, I posted the events from the ride in the order they actually happened. There's nothing new here. If you followed the adventure as it played out, this would be merely a review. If you didn't read the posts beginning in October 2010, you might find some interesting insight into my head by doing so. However, I accept no responsibility for screwing with your mind.
October 10, 2010
How long am I to keep saying "One of these days, I'm gonna do that..." and still believe it?
Picture Me Here
Alaska has been calling me for years. I have long dreamed of riding my Harley there from Dallas and making a video/photo documentary of the trip. I want to ride up the Dalton Highway to Deadhorse Alaska in the Arctic Circle and take in the surroundings at the sign. Don't ask me why because I don't have an answer. It's just a nagging vision in my head that I need to realize. Up to this week, it was a pipe dream; a one-of-these-years thing.
Martin @ Sturgis 2009
Today, it's different. A co-worker and friend dropped dead at his desk this week. He was only 48 years old. I'm 47 and like me, he had raised his kids and was at a point in his life where realizing pipe dreams like this was possible. Also like me, he rode a Harley and we used to tease each other over who would make it to Alaska first. Our plan was to meet up in Kansas and ride into the Arctic Circle together. Martin waited too long and his untimely passing is a painful reminder to me that that I should not. I will not. To add to that, my 68 year old father in-law sits in a wheel chair with 25% mobility following a massive stroke last year. He completed two full careers and was set to enjoy the lifestyle for which he worked so hard. These examples are weighing heavily on my mind right now. There is rarely a good time to do things like this, but I'm all too aware that too late will come before I know it.
Alaska is calling again. This time, I'm answering. Get ready Yukon, because in June/July 2011, the Infidel is coming.
I will post details of the logistics and planning on this blog as I sort them out. It won't be too exciting to read. If nothing else, each entry will serve as a reaffirmation of my plans and provide a checklist of important items to make the trip not only possible, but somewhat safer.
June 17th - The Longest Night
Well, the Alaskapade is about to kick off and I think I'm done packing. I have all the camping, bike, and personal equipment I need for the journey packed and ready to roll. I've spent the last eight months searching for the right gear at the right prices, planning routes, sorting out the logistics, working side projects for gas and expense cash, working out and trimming down, and it's all come down to this.
Selecting the right camping gear was a tedious process. Everyone had an opinion and there was a lot of good gear out there from which to select. There is also a great deal of expensive equipment out there. In the past, I never gave packing size or weight a second thought and as such, most of the gear I already owned when I started planning this was way too large and heavy to pack on a motorcycle. As detailed in previous entries, I have been fortunate to find just the right camping gear that was not only functional, but is light and highly compactable. I can set up and pack up my tent in less than five minutes. It has plenty of space for me as well as room to store anything I choose to remove from the bike at night. The tent, sleeping pad, pillow, inflatable repair kit, and tiny collapsible camping chair all fit neatly into a waterproof cylindrical dry sack that measures only 22" x 14" and weighs in at 11 pounds.
I'll be carrying more high-tech gear than the Apollo 11 crew did when they walked on the moon. My GPS has freshly updated North American maps and includes addresses for every Harley dealer in the continent in case I need to stop for service. It also has 16 gigs of internal mp3 storage for all my tunes and a small library of audio books. The tunes, books, and even cell phone audio will play wirelessly via bluetooth into the stereo speakers mounted inside my helmet.
My Spot Connect satellite transponder will let my family and friends keep up with me on the road with location updates posted to easily-read Google maps that post every ten minutes. Unless I porked something up, the map should be at the top of this page now. Viewers can click and drag to pan the map. If your mouse has a scroll wheel, roll it up and down while pointed inside the map to zoom in and out. If not, use the zoom buttons at the upper left of the map. The lower right corner of the map has buttons to switch from map to satellite or hybrid views. When there's actually tracking data to show, you can move your cursor to the tracking line to see when I was at the location last. I will use my Spot Connect with a bluetooth connection to my Android smartphone to send messages out to those who have elected to receive updates from the road. There's also an emergency 911 button and even though I paid for search and rescue insurance, I don't plan on needing that.
If I get sick of the tunes I'm packing, I'll have my Sirius satellite radio with me as well. I'll also be traveling with two HD video cameras, two digital cameras and two tripods, all of which I plan to use to capture as much of the action as possible for the post-journey Alaskapade 2011 documentary. Each days' footage will be downloaded to my laptop and backed up to an external hard drive when I stop for the night.
For personal gear, I have a ThermaCELL bug repellent system, a screened mosquito hat, sun screen, special moisture wicking underwear, extra glasses and goggles, a spare helmet, a towel, and a bag of shower crap. For months, I've been collecting the little bottles of soap and shampoo from the hotels I stay in for work travel. I always pack aspirin for hand numbness, Motrin and an anti-inflammatory prescription for back pain, and Imodium in case the local foods disagree with me. I've been eating very health-conscious foods for the last six months, but I suspect I could get somewhat lax on diet discipline while out on the road for so long.
As for clothing, I'll pack lightly and take garments I can wear repeatedly and throw away as they disintegrate and/or when their odor gets too strong to be blown away by the wind as I ride. I suspect I'll be replacing some of the tossed out shirts with a few new Harley t-shirts along the way. I'll try to do laundry wherever there's a campground with facilities. Of course I packed toilet paper too.
Speaking of paper, the international component of this journey dictated that a few other personal details be handled before I depart. I secured proof of motorcycle insurance coverage in Canada and of course I have my passport. Riding solo, the distance, the destination, and indigenous wildlife cohabiting my lodging accommodations dictated that I update my Will as well as financial and health election forms. On a lighter note, I received confirmation from the Canadian Food Inspection Agency that I can carry some beef jerky across the border with me. Beef jerky, 5-Hour Energy, and Monster Energy drinks are a staple of my diet when I'm on bike trips. Given the price for a gallon of gas these days, beef jerky and water might be more than just a staple. Remember when gas prices were under $2/gallon? That was just before President Obama took office. "Hope and Change" indeed. But I digress...
Hester is also primed and ready. She has fresh engine oil/filter, all cables and wiring connections have been inspected and tightened, and all the nuts and bolts I can reach were checked and rechecked for tightness. I'll carry an emergency tire plug kit with compressed CO2 cartridges and select tools for minor repairs and tightening along the route. I have a reflective rain suit and a bike cover that will fit over Hester, even if she's fully loaded. I have my Harley Owners Group emergency road service contact numbers and the Spot Connect device to reach them if I'm out of cellular service. I want fresh rubber when I hit the Dalton Highway, so I prepaid for a new set of tires at the Harley Outpost in Fairbanks. I spoke with the service manager there to confirm they would do my work while I wait. I've found most HD dealers will give priority to road warriors. On one hand, it's Alaska; I mean how crowded can it be? On the other, the weather up there has been fantastic and lots of people get their bikes serviced for the short riding season. Better be safe than sorry. When I gave him my Texas address, he asked if I was riding all the way up. I'm not sure how else Hester and I would make it up there, but I answered yes and then jokingly asked if he knew of any shortcuts. He said short of drilling a hole through the Earth and tunneling straight across, the northwest route through Canada was probably my best choice.
Click to enlarge
I also have a few sentimental items to carry along. I wanted to bring something of Martin's with me, so his widow sent me his Harley Davidson snow cap. My plan is to leave it at the Circle sign. I also have a special coin sent to me by an on-line reader and close friend. As an ex-military guy, I've been a challenge coin aficionado for some time. Over the years, the coins have expanded beyond small military circles and have become more popular among the general public. The coin on the right will definitely make the trip with me, but I'm not leaving it up there!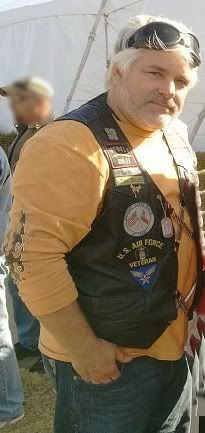 250lbs - Dec, 2010
One other important aspect of preparation for this trip was physical readiness. I reached my goal to shed over forty pounds well before June 18th and even dropped a few more over the last few weeks. My waist went from a 38/40 to a loose fitting 33 and my bulging gut is gone. I ate properly and I have worked my ass off in the gym five to six days each week since the beginning of the year. I reviewed my daily averages this morning and calculated that between rowing and climbing on the elliptical trainer, I've covered 594 miles. I also cut out alcohol, sugar, and caffeine and I've maintained a low-carb diet. I'm happy to once again be able to wear the leather jacket that I almost got rid of last year because it was too tight to zip. It's a good thing because I'll probably need it as I pass through the Canadian Rockies.
So, I think I am ready. I'm sure I've forgotten something, but I have learned that that is just part of traveling. I have had so many suggestions and lists from friends and fellow riders that if I packed it all, I would need a trailer. All I need now is to wake up tomorrow and ride away.
Before I go, I want to express my thanks to the many people who have offered well wishes and good fortune to me on the trip. I have enjoyed reading the comments on my posts sent to me by readers; even the angry ones. My opinions on the topics might not have changed, but my points of view have been expanded. I am especially grateful to my family and friends who have either supported the idea from the beginning, or come around when they realized I was not giving up on the dream and that I have actually thought this thing through. There are still a few who think I am crazy and selfish and that there is no way I will make it all the way. I may have to eat these words, but I will relish the thought of you watching the video I plan to shoot from the Arctic Circle after I get there. Nevertheless, I thank you for your inspiration.
June 18th - Departure Day
I'm off, folks.
Years of dreaming and eight months of planning have led to this.
By the time this entry posts, I should be on the road an hour or so. Keep up with me by watching the map at the top of the page. Barring any technical screw-ups, it should update my position every ten minutes or so.
If You See This Guy, Honk & Wave
If I come across something interesting and I have cell coverage, I will post pics to the blog from my Android phone. Otherwise, look for the next written blog update from Denver tonight - unless I'm too tired to type.
Day 1
Dallas to Denver - 854 Miles
14 Hours Saddle Time
I made this same trip along this same route last July, so I pretty much knew what to expect in terms of traffic, terrain, and body fatigue. The route is pretty flat and straight until I hit Raton Pass in New Mexico. This is good because it takes a day for my body to acclimate to the long hours in the saddle and I'd rather that happen on easy terrain as opposed to on the Alcan or Dalton Highways. Three stops to fill Hester's tank (and one to empty mine) with a lunch at one stop and dinner here in Denver made for a pretty uneventful day. Hester ran smooth and comfy all the way up and she's fueled and ready to roll again tomorrow. I'm staying at the same hotel I stayed in last year when I rode to Seattle. I even got the same ground floor room right near the parking lot where I can see Hester clearly.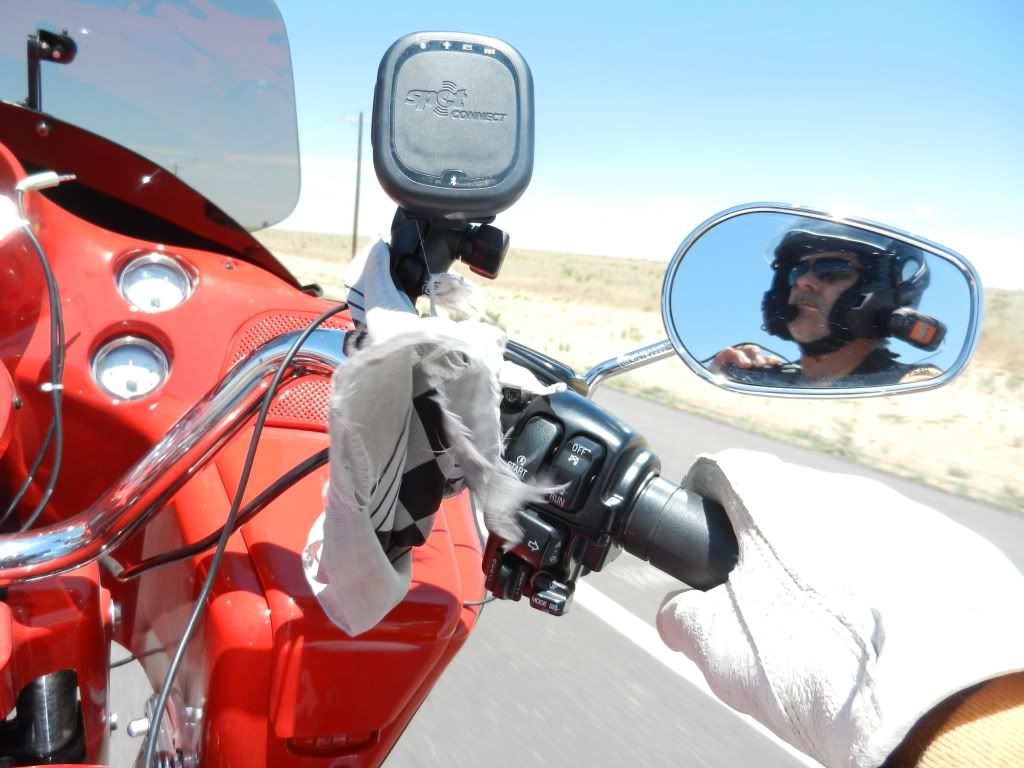 It looks like the Spot satellite transponder has lived up to my expectations and updated my position. I'm keeping the updates I send to my subscribers to a minimum until I get into Canada and actually have something interesting to say. I want to go to bed, but I need to download the video footage I collected today. I'm pretty beat and probably won't review much of it. I just need to ensure the camera memory cards are clear for tomorrow's ride.
My back feels pretty good. I was worried I'd be miserable, but so far, so good. A dip in the hotel jacuzzi will sure help. I'm really glad I installed the highway pegs. They offer another foot placement option, which is imperative on a fourteen hour ride.
Next stop: Great Falls, Montana; roughly 750 miles. Last year when I left Denver, I headed west through the mountains towards Boise and it was a breathtaking ride. Tomorrow's route takes me straight north through Wyoming and up to the top of Montana. I expect Wyoming will be about as exciting as watching paint dry. Still, I'm on a bike and that beats driving a cage any day, any place.
Nothing Invokes a Feeling of Warm Welcome Like Bullet Holes in a State Welcome Sign
Finally, Some Scenery
Day 2 - Denver to Great Falls, Montana
13 hours saddle time
756 miles today
1,610 miles total
I suppose the best I can say about today's ride is that it was an uneventful (albeit long) day in the saddle. I'm sure there are more scenic routes than the concrete slabs I took to get here. But while I'm outbound and still in the States, I'm just trying to get as far north as I can as soon as possible.
Wyoming and Montana are two states in which I've never ridden, so I suppose that's an added bonus.
I know; I'm reaching. Denver to Billings was pretty dull and I spent the entire time dodging rain and hail. The Billings to Great Falls leg was really cool. The route was primarily two-lane split country roads with rolling hills and a mountain background. I never got rained on too hard. It was always just enough to make the roads slick and to keep me on my toes. The skies were dark and ominous on three sides of me and I could see the dark streaks of rainfall in the distance ahead. Every rider can relate to this: There always seemed to be a gap in the rain streaks ahead of me and I found myself hoping that somehow my route would take me through that gap. I was fortunate to only get light sprinkles. Navigating the terrain into Great Falls was especially enjoyable. The turns were not so tight and twisty that I had to concentrate on them intently, but they were smooth and sweeping enough to keep me interested and enthused.