This one wasn't a Christmas present. I bought it for myself. I needed a new GPS after my
mom's trip
. The TomTom Rider2 I had used since 2006 still has a 2006 map in it and as detailed in a
previous post
, I can't upgrade it because the TomTom corporation is woefully technically inept. I picked the new model I wanted back in October, but waited for a deal to present itself during the end of year holiday rush. Let's face it; consumer electronics only get cheaper and with Christmas approaching, I found a killer deal.
I hear from riders all the time how they don't want a GPS; they don't need a GPS. The reality is many of them probably can't figure out how to use a GPS. One such rider wearing a Harley do rag, Harley leather jacket, Harley chaps, Harley boots, and a Harley t-shirt reminded me that he wasn't a poser and that real riders don't need a GPS. He added that he'd rather get lost and run out of gas than be seen with a "babysitter" on his scooter. His ride was a 2003 100th anniversary edition Harley Heritage Softail; a great looking bike with a whopping 5,000 miles on it. I didn't bother to point out to him that Hester has over 12,000 miles on her and that her 1st birthday was December 30th. Granted, 6,000 of those miles were earned on a two-week trip last summer. But I've managed to ride another 6,000 miles having been out of town on business for 45 weeks last year.
Poser or not, I don't use a GPS on the bike around town. It came with an automobile windshield suction cup mount and a cigarette lighter power adapter, which will come in handy for finding my way in any of the cities in which I find myself during my work travel. As for the Alaskapade, many of the routes I'm considering are very rural. I've received suggestions from riders who have made this trek or who live along the route in Canada and Alaska. Their routes are way out there and I plan to try to ride every one of them.; specifically the route through the Canadian Rockies, Banff National park, and the Columbia Ice Fields.
Lake Louise - Banff National Park




Driver View of the GPS
Back to my new toy. I picked up a Garmin Zumo 660 GPS. It's purpose built for motorcycles and it has an integrated mp3 player with 16GB of storage for tunes, audio books, images, and special route functions. It sports a large touch screen that works with riding gloves. I installed a new fuel door on Hester that has a special mount for the GPS. With this mount the GPS sits securely, right in front of me with its wiring neatly tucked under the gas tank console. It detaches easily, so I can take it when I'm off the bike. Not only can I clearly see the large screen without taking my eyes too far off the road, I can also play the music through Hester's stereo speakers, into wired headphones, or via bluetooth to my helmet intercom stereo speakers. The tank mount is especially nice because there will be two less devices with dangling wires on the handlebars when I leave in June, leaving room for important accessories like my 12vdc Margarita Masters machine.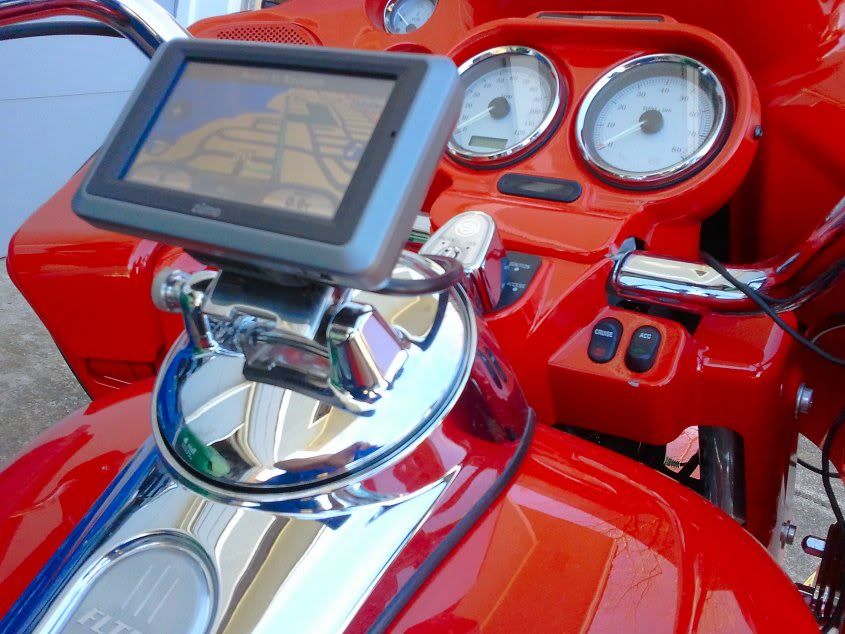 Atop the Fuel Door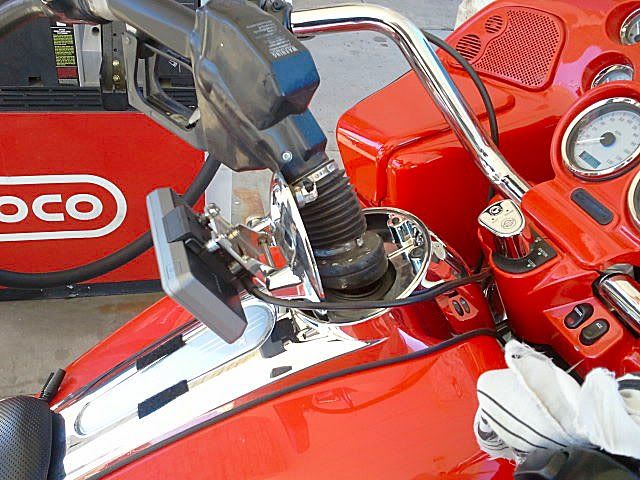 Gas & Go
I only have one other techie piece to acquire for the trip. The Find Me Spot GPS Tracker is a must have for a trip like this. Details on that when I pick it up.