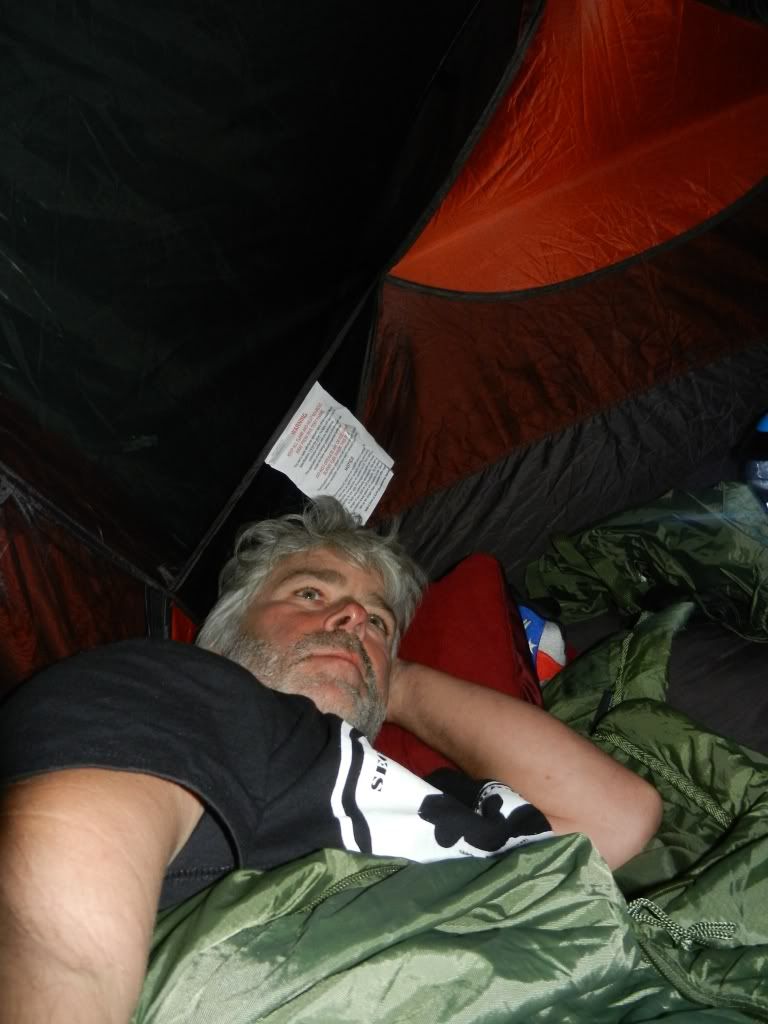 This day started like many others on this adventure. I awakened staring at the bright orange inside ceiling of my tent. After a brief moment of complete disorientation, I realized where I was and thought about the events of the previous riding day. What a long day! What an adventure! What an
idiot!
What kind of fool takes a chance like that? On the one hand, I rode a thousand miles, I did it alone, and I did it not on a highway slab, but across some of the worst terrain imaginable and in the worst of weather conditions. I was proud of that. On the other hand, I rode a thousand miles, I did it alone, and I did it not on a highway slab, but across some of the worst terrain imaginable and in the worst of weather conditions. It was a pretty stupid move. It was pointless to ponder the rationality or stupidity of it all. The manly man in me still thinks it's kinda cool despite the abject fear I felt for a while. The rational part of me thinks...well, I tend to just ignore that part.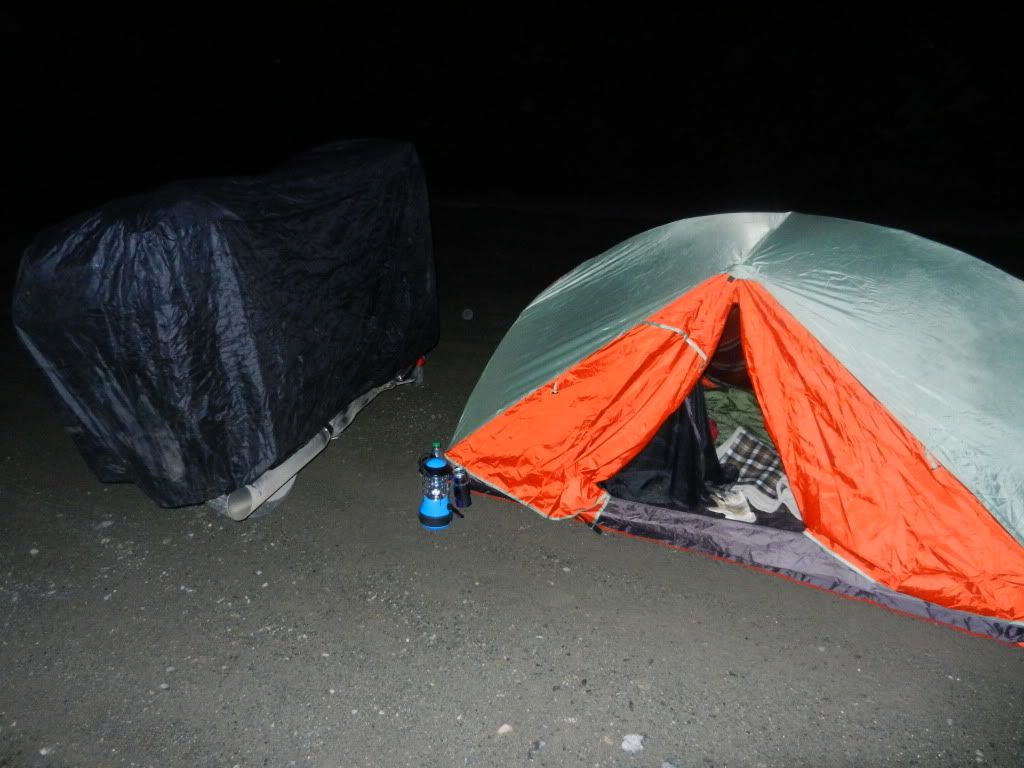 1,011 Mile Roadside Hotel
I rolled up my sleeping bag, deflated my air mattress, and packed everything I could before I even exited my tent. I crawled out and saw an older couple a few feet from me bent over examining something in the dirt between their camper and my tent. They looked over at me, said "good morning" and turned back to look at whatever it was. Naturally curious, I wobbled over, still shaky from the previous night's dead still sleep to get a glimpse. There on the ground between our two camping spots was the biggest turd any of us had ever seen. I'm not talking about a big plop like a cow drops or a pile of nuggets like from a horse. This was a fully shaped, tubular turd with tapered ends that was loaded with twigs and what appeared to be unchewed berries. It was coiled up into a pile and was the diameter of a tennis ball can and about twice the length. The man said "I thought dinosaurs were extinct." I looked up at the woman and said "Did you do that?" The coffee the man had just began sipping spewed forth like projectile vomit and he doubled over in laughter. She laughed and replied that she was about to ask me the same question, pointing at their camper and reminding me that they had a toilet. As bad as I wanted to, I couldn't bring myself to take a picture of it in front of the couple. I wanted to ask them to take a pic of me knelt down next to it. The thrill of it all was quickly overshadowed by he hoard of flies and merciless smell, so we stepped away and did the usual morning introductions. They were on a driving vacation across Canada and were on their way back to Vancouver. I packed the rest of my gear and hot the road.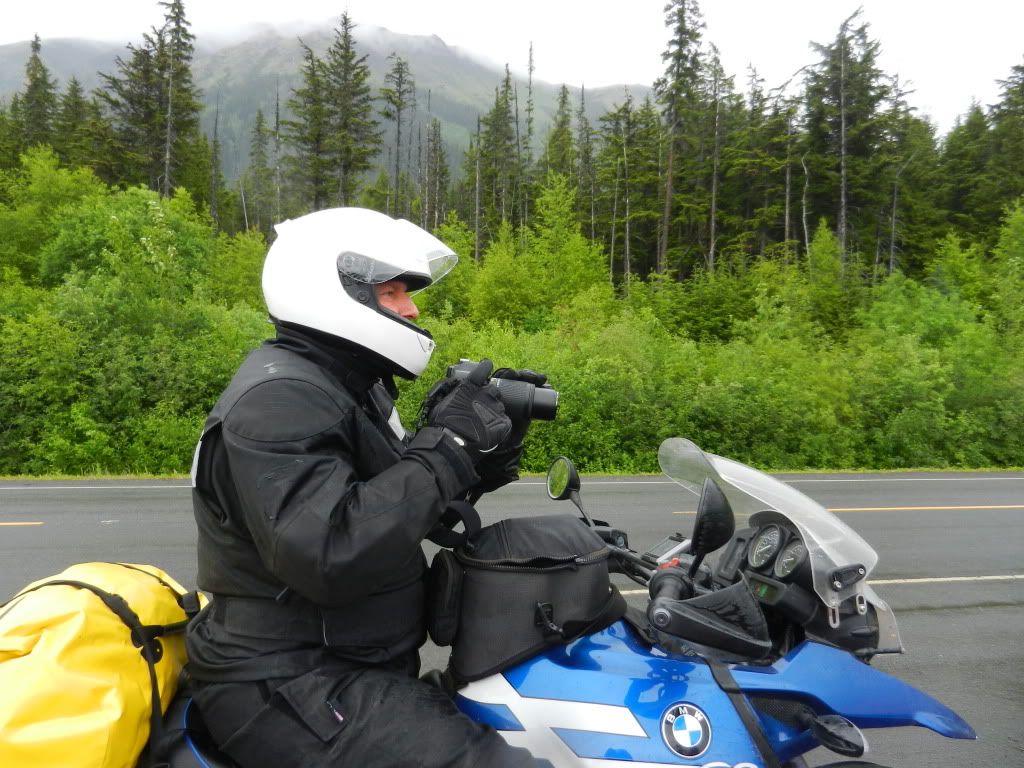 Scot From Seattle
A few miles down the road I saw a hotel, gas, and a small store. I had stopped in desperation the night before because I figured there was nothing ahead of me. Had I seen that hotel, I might have tried to get a room. As I rode by it, I saw a guy loading up a BMW Adventure bike and did the usual biker one finger down wave. A few moments later, I rode up on a cool piece of river rapids that winded itself up right next to the road. I pulled over to get a quick pic and as I was getting back on the bike, the BMW rider I had seen mounting up at the hotel up the road rode up to me and said "Hello Scott.". "Hey Scot" I replied. Scot and I had met briefly at the Arctic Circle monument three days prior. When I was up there, I saw a group of BMW riders arrive together and Scot was among them. I thought he was part of their group. I was wrong. Like me, Scot was on his own and was also heading down to the Cassiar Parkway. He had left Fairbanks on Sunday and made a couple of stops before we ran into each other here at Deese Lake in British Columbia. When he mentioned he was riding the Cassiar to Seattle with a planned stop in Prince George, I said that I was too and we decided to ride the 1,200 mile route together. After the harrowing night I had just experienced, riding company was a welcome sight and any guy willing to go it alone like I had was probably a cool guy.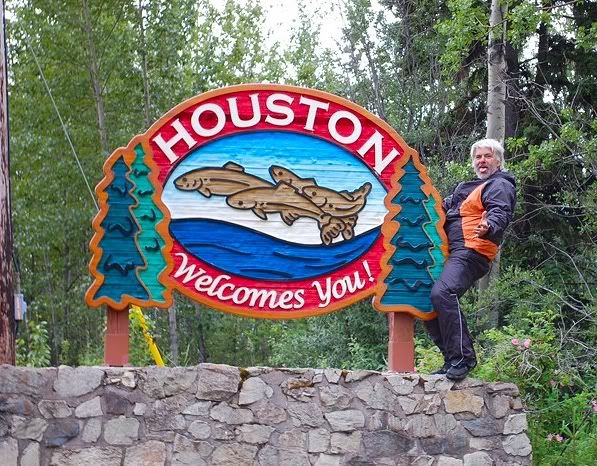 Houston, We have a Problem
Highway 37 eventually gave way to Highway 16 (the Cassiar Highway) in a little town called Kitwanga. I had heard great things about the Cassiar and I have to say that it delivered. Scot and I spent the day carving corners, crossing mountains, climbing hills, and diving into steep drops. Our riding pace was pretty much the same and we seemed to have a similar mindset for stopping to snap photos and take in the scenery. Despite the rainy weather, the 600 mile ride to Prince George would be child's play compared to my ride yesterday.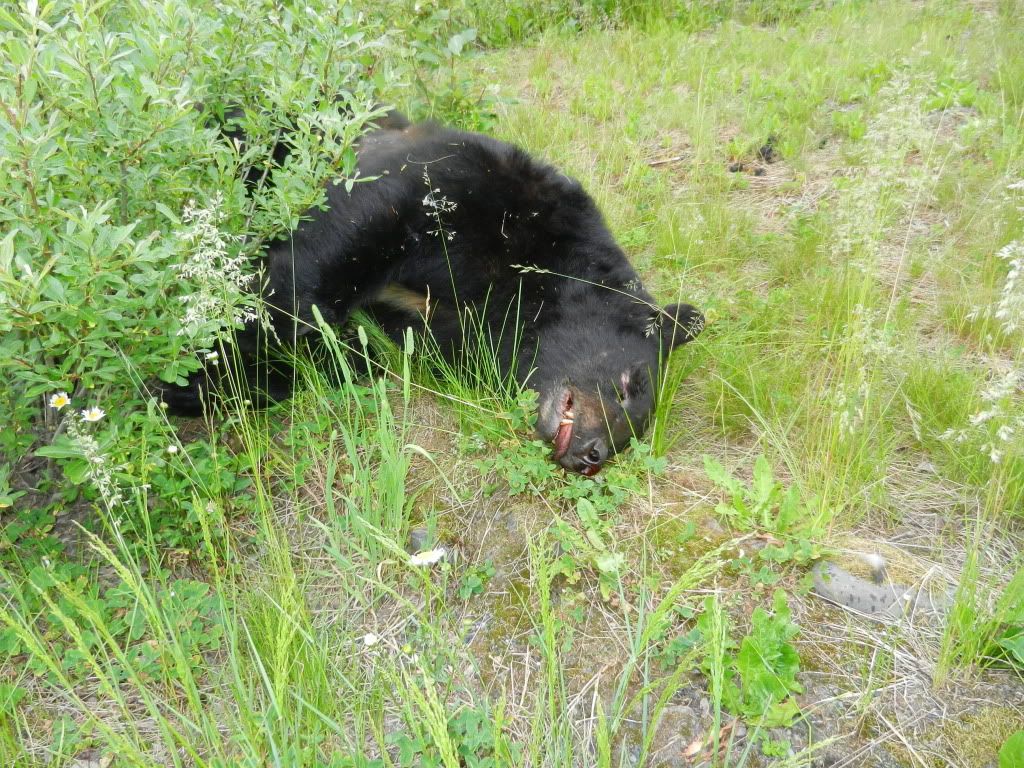 The Cassiar also delivered when it came to wildlife. Scot and I stopped numerous times to watch bears and moose. We saw a mama bear with three tiny cubs in tow. It's hard to believe something so cute can be so dangerous. I was really psyched to see a huge bear right next to the road. I caught a glimpse as I rode by and turned Hester around to get a closer look. Sadly, this huge bear was dead. It didn't look as it had been hit by a car or attacked by some other animal. It was just dead...and it stunk! The sound of the flies hovering around it was reminiscent of my military days in Central America. I snapped a quick pic and raced to catch back up with Scot.
Our southbound route took us through numerous small towns with no apparent industry or other community sustaining infrastructure. There would just be a collection of houses or trailers in the middle of nowhere. We stopped for lunch and gas in a place called Bells. The bed and breakfast there was quite nice. The bacon cheeseburger and fries were even nicer. I met a couple there who were up from Texas. I was in the middle of nowhere in Canada and still meeting people from home.
At another gas stop, Scot and I noticed two really old motorcycles parked out front. One was an Indian and if memory serves, the other was a Triumph. The riders were a father and son who were attempting to make their way up to Alaska from San Francisco. They said their pace was about 45 mph and that they were obviously in no hurry. I thought I had balls riding a Harley to Alaska. I admire their effort, but I don't think I could take such a slow pace.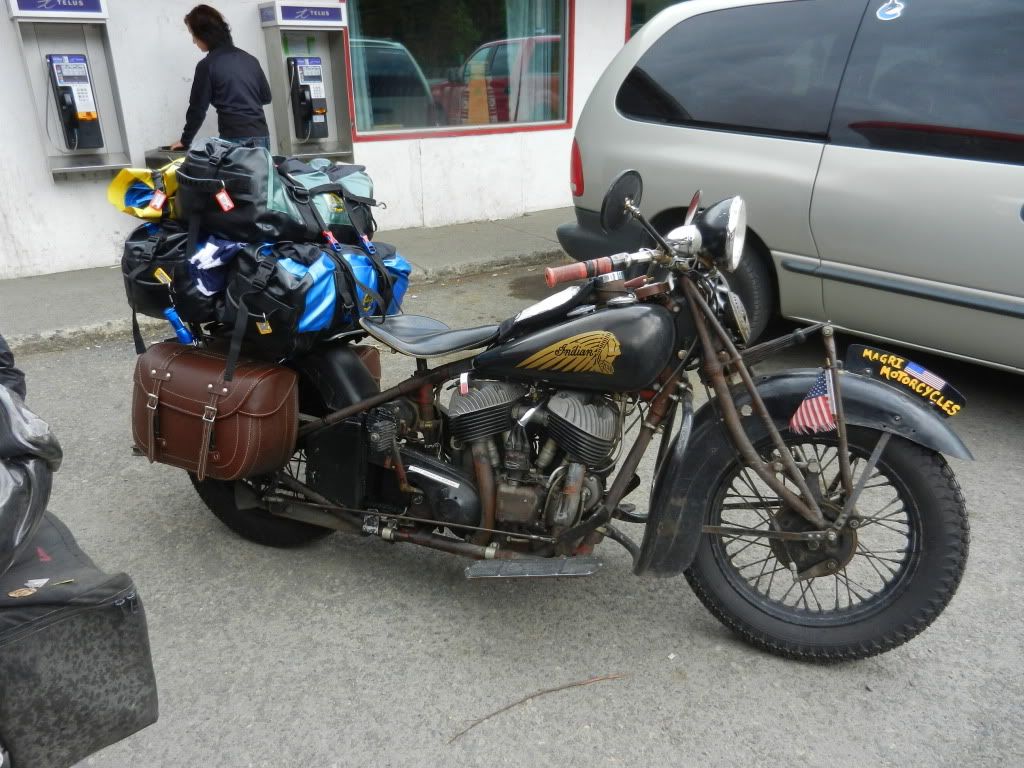 As the day wore on, the clear British Columbia skies and crisp air morphed into some pretty serious rain. There were low hanging clouds as far as we could see and the darkness came early. I had been camping most of my trip and while Scot had camping gear, he had been hoteling it. I mentioned that I planned to camp again and Scot agreed. After riding in the rain for what seemed like hours and finally arriving in Prince George in the dead of night, we both decided to just find a room. Setting up camp in the rain sucks and packing up wet gear the next day is awful. To make matters worse, we had both just rode up on a horrific accident north of Prince George. A van struck a huge moose and there were parts everywhere. It was a gruesome scene that had apparently taken place immediately before we rode up. People behind the van were scrambling out of their cars as emergency workers weren't yet on the scene. Scot and I rode by slowly and stopped at the first open station to top off our tanks. We confirmed with each other that what we thought we saw was really what we saw. We also confirmed that neither of us wanted to pitch a tent and decided to split a hotel room. I informed Scot that I was not in the habit of going to hotels with strange men I just met, but that in his case, I would make an exception. We found a clean place with Internet access, two beds, and a shower. After a much needed hot shower, I laid in my bed and considered the timing that took place back at the scene of the moose strike. Had we been at that intersection when the moose was in our lane, that could have been us on the road. Some say timing is everything. I think luck has a lot to do with it too. Tomorrow, we would cross back into the United States. Scot would go home and I would stop to visit my mom's friend and deliver a rock. I still had over 3,000 miles to ride to get home.