Day 3 - Great Falls, Montana to Canmore, Alberta, Canada
415 Miles
2,025 Miles Total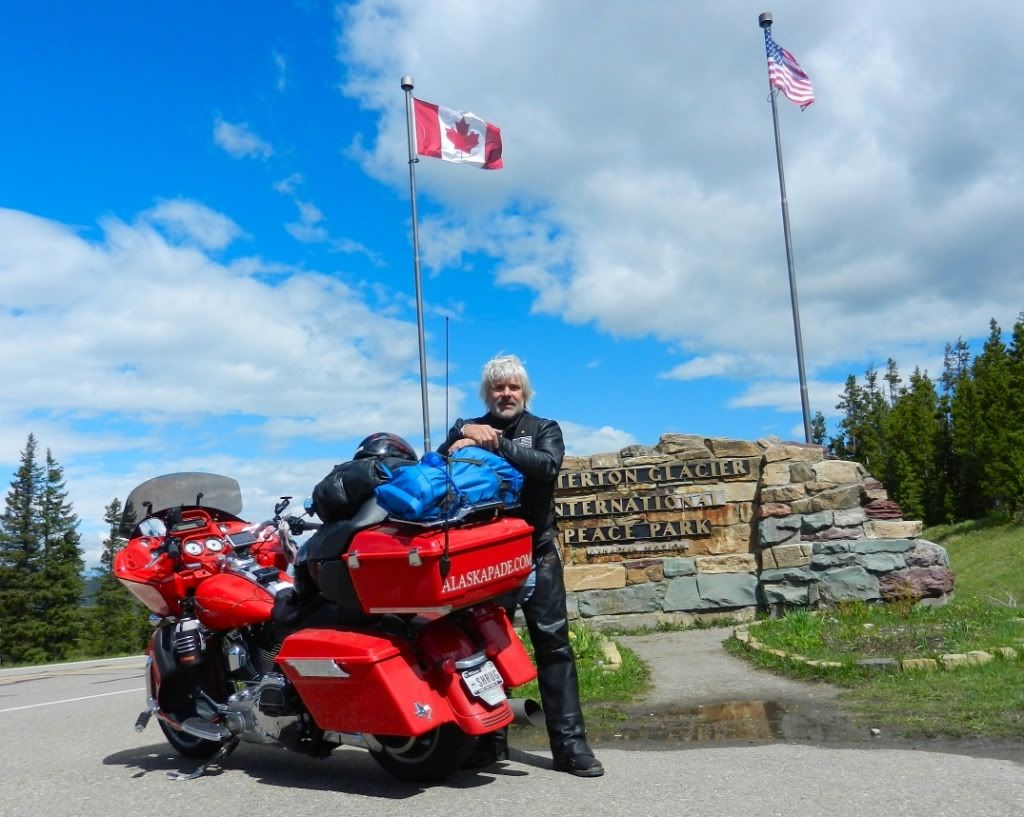 I've been on the road now for a few days and it's finally starting to sink in. I'm away. I'm still much closer to home than I am to the Circle, but I'm out here and I'm finally making this happen. I've wanted to take this journey for years and just kept putting it off. It took losing a friend to make me get off my ass to actually plan and execute the trip. This makes me wonder; why do we procrastinate with things like this when we know the good they could do for our soul? We're all guilty of it at some point in our lives. We've all been to a funeral and heard someone say "why do we wait for tragedy to get together like this?" I believe it's a personal tragedy for all of us when we fail to find a way - to get away.
Now that I'm in Canada, I plan to (try to) back off the throttle a bit and not concern myself with the clock, the calendar, and the odometer. There are a few places I definitely want to see along the way and I suspect there are many more I don't even know of yet. The beauty of traveling alone is I can stop on a whim or just roll on through as I please.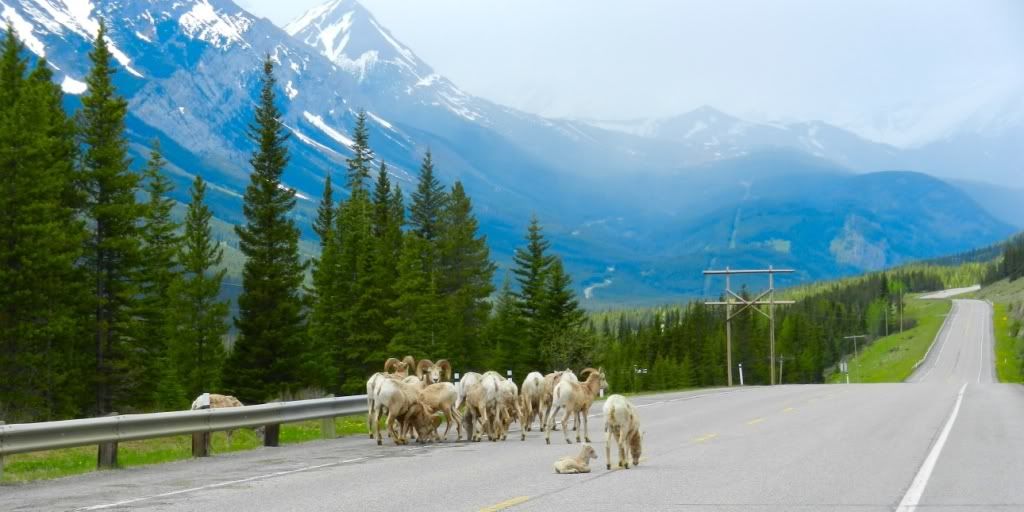 The route out of Great Falls took me north on I-15 for a while before breaking off onto Hwy 89 and riding parallel to Glacier National Park. I strayed off 89 onto 17 and arrived at the Canadian border on Hwy 6 just south of Waterton, Alberta. I expected major hassles at the Chief Mountain border crossing. After examining my passport, the Border Officer asked me if I had any weapons, mace, or plants. I answered negative and he passed me through; just like that. I was pleasantly surprised. The ride from Chief Mountain to Canmore was nothing short of breathtaking. At only 415 miles, today's ride was a buzz around the block compared to the previous two days. I would have arrived here sooner, but I kept stopping to take pics and pick my jaw up. I can't wait to review my video footage and see what all I captured. The roads were twisty, picturesque, and in great shape. There was practically no traffic except for goats, cows, and horses who seem to prefer the road to the land on either side of it. I stopped to don my rain gear (again) and although the skies were dark and threatening, spent more time putting it on than I did in any real rain. I stopped in the first bank my GPS found and exchanged currencies. Having skipped breakfast, I was hungry and almost forgot that I needed Canadian dollars.
I arrived in Canmore and had to find a place to camp. I learned last night that my previously planned accommodations for the night had fallen through. I had originally planned to camp anyway, so the news wasn't a severe blow. Besides, I had a strategy to find the perfect spot. I just looked for little blue street signs with camper icons on them to point me the way. The first two places didn't allow tent camping. I asked the lady behind the desk if she knew of any sites nearby that did and she coldly told me no. Maybe she didn't like Texans, or maybe bikers. Or maybe both. The guy at the second place was cool and pointed me to a spot a couple of kilometers away. I rode over and when I arrived, was greeted by a huge brown Labrador retriever. This had to be the happiest dog on the planet. He would have made a great spokesdog for Pet Prozac. Once he saw I was friendly back to him, he grabbed some dog spit-soaked rag of a toy, brought it to me, and began that game of "take it no don't, take it, no don't". It struck me at that moment that this was the most personal interaction I had experienced in three days. I'm not sure, but I think it made me miss home. I set up my camp and headed out for a bite to eat. Tim Hortons is apparently a popular place up here. So far it is with me, because I ate at a Hortons for lunch near the border and dinner here in Canmore today. Hortons is a win/win for me. I can eat decent food and they have wi-fi, which is how I'm able to deliver this update.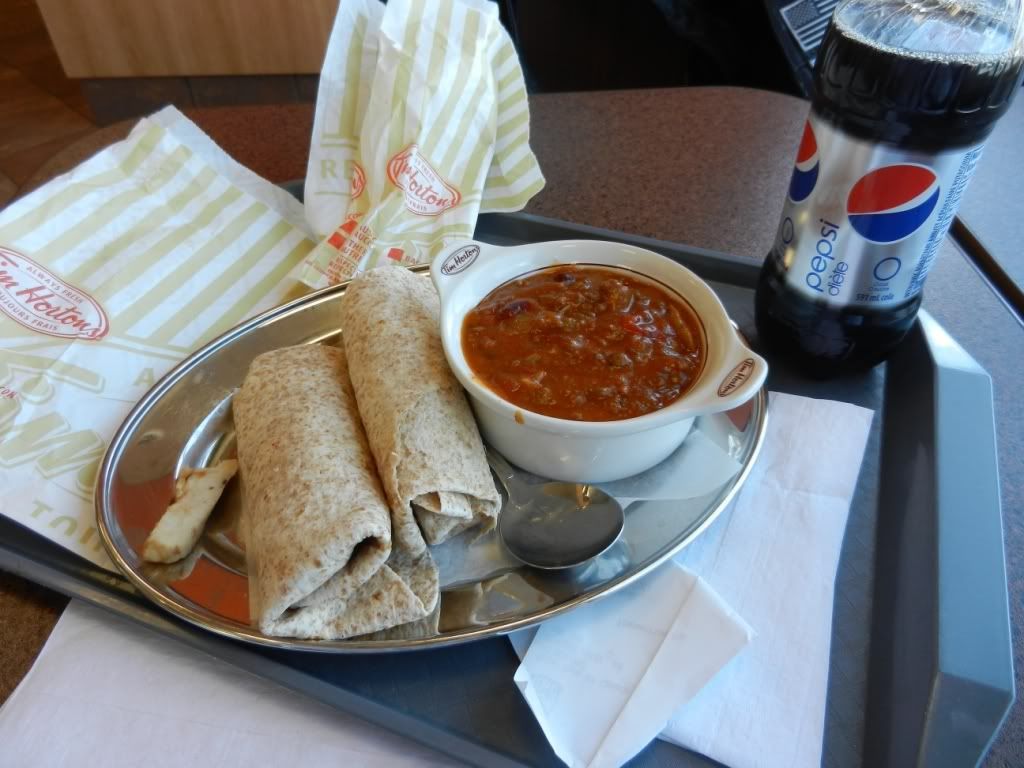 Tomorrow, I ride another short day to Jasper to visit an acquaintance from the Harley Davidson Forums I frequent. Several other riders have visited Hermann and his wife and I'm looking forward to meeting them in person. I'll buzz around the Banff/Lake Louise area in the morning and then head north to Jasper. From there, it's north by northwest to Alaska and up to the Arctic Circle. I've logged over 2,000 miles in three days and I'm still as excited as I was on Friday.
For those who noticed the odd track on the map, I didn't make an east west zigzag as it appears. I chalk it up to a glitch. I received a dozen texts and emails asking if I was lost. Even Hermann asked me when I spoke with him to confirm tomorrow night's stay.